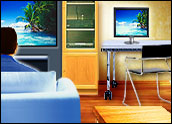 Just as Voice over Internet Protocol (VoIP) has emerged as a significant competitor to traditional telephone services and has grown more pervasive in U.S. homes and businesses, television via high-speed Internet is becoming a reality as both broadband and competition grow.
Evidence of the broadband TV steps that both telecommunications and content providers are taking came this week from U.S. Federal Communications Commission Chairman Michael Powell, who referred to telephone companies' pursuit of video over IP offerings to compete with cable companies.
"Almost every major phone company I'm aware of has an initiative underway to begin to try to plug the hole with partnerships with satellite-delivered video, but what they're really working on is broadband-delivered IP television," Powell told reporters. "That is a major component that is moving fast," he said.
Powell's comments came a week after — and at times in reference to — an announcement from set-top box maker TiVo and online rental provider Netflix to deliver video over IP. In addition, Verizon verified Powell's claim that the major phone companies are aggressively pursuing broadband TV to compete with cable companies. In light of this trend, Verizon announced a new strategy and a new senior executive this week.
Analysts were not surprised to hear about the strategies from phone companies such as SBC and Verizon, citing little choice for them thanks to the loss of traditional landline revenue. However, there are calls for some government oversight to prevent the largely unregulated cable companies from picking off the customers from the still-regulated telcos.
Answering VoIP Loss
Yankee Group senior analyst Adi Kishore told TechNewsWorld that as the cable companies — including Time Warner, Cox and Comcast — have taken phone customers away from traditional telcos, the phone companies have been forced to look for alternatives to retain and return market share.
"It seems like the phone companies are getting extremely interested in some sort of video solution, because their wireline phone services are declining," Kishore said. "A lot of cable companies are offering voice fairly aggressively. That sort of competitive threat is becoming increasingly real."
Oversight Needed
Fellow Yankee Group senior analyst Zeus Kerravala told TechNewsWorld that video might be the telco's best bet to compete with cable companies, but even video over high-speed Internet will not prevent the phone companies from struggling.
Arguing that the cable companies cannot be allowed to take "the cream of the crop" in phone customers without the obligations that phone carriers have to provide rural services as well, Kerravala said that some regulation is required.
Kishore said there is still a great deal of uncertainty over how the FCC will regulate both the cable and telco providers delivering phone and video over IP.
Bundling Is Best
Kishore said there is mounting evidence that the more services provided through the same company, the less likely the customer is to switch providers. Thus, cable operators are offering telephone service along with video and data; and telephone companies are looking to video to add variety and appeal to their services.
Some of the telcos have partnered with satellite television providers to bundle services, but the success of such partnerships, which do not deliver additional revenue to the phone companies, has been limited.
"They've got to do something and find ways to hold onto customers and serve them," Kishore said, adding that the phone companies also are facing losses to wireless subscriptions. "The most likely option is video."
Fibers Firsts Under Way
Highlighting the movement toward video over high-speed Internet, also known as fiber-to-the-premises (FTTP), Verizon announced the hiring of former MTV and Viacom executive Terry Denson in part of "an aggressive program to deliver broadband services over optical fiber directly to homes and businesses," Verizon said.
The company said it expects to be delivering video over broadband services to more than one million homes by the end of the year, with another two million customers expected next year.
Verizon said the fist community with the service is in Keller, Texas, and work has begun on FTTP installations in Florida and California, too.
Kishore said the broadband video services will probably crop up in small pockets of the market where there is little or no competition from cable operators, adding that video over high-speed Internet is not likely to threaten cable's market share.