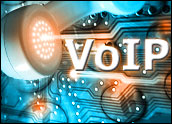 Despite recent announcements from major telecom companies such as Verizon and SBC to ensure emergency 911 calling capability on Internet-enabled voice over Internet protocol (VoIP) phones, Federal Communications Commission (FCC) Chairman Kevin Martin indicated this week the regulatory body will develop a plan to require the emergency service support.
Referring to lawsuits involving VoIP carriers such as Vonage for allegedly inadequately warning users about the potential inability to contact appropriate emergency services, Martin said he hoped the FCC's plan will force VoIP providers to offer the emergency services.
Forcing the Issue
Meanwhile, analysts indicated carriers and companies, particularly Vonage, are trying to address the 911 issues on their own, and that although it has encouraged support for VoIP emergency services, the FCC has not been clear in its demands for it to this point.
"The government wants the industry to do it and they're reluctant to take it a step further, but they can't leave it alone," Gartner regulatory analyst Ron Cowles told TechNewsWorld. "On one hand, the FCC is a bit remiss for not giving more direction, because just prodding continues to be just prodding."
At Congressional hearings this week, the FCC's Martin indicated the Commission will review a plan for requiring 911 emergency services in VoIP phones next month. Martin said although the FCC has up until now refrained from regulating Internet phone carriers — which are growing as cable and other companies begin offering services — the body has an obligation to ensure emergency capability in the increasing number of Internet phones.
During this week's hearings, some lawmakers were critical of Vonage, complaining that consumers are not aware they may not have the emergency services calling capability they are used to with landlines and mobile phones.
Facing Liability
There was also reference to the lawsuit filed against Vonage for failing to warn customers about the limited 911 support by the Attorney General in Texas.
Gartner's Cowles said VoIP providers and carriers looking to deliver the Internet phone services are aware they are vulnerable in terms of both market and legal liability by not offering emergency 911 services.
"The biggest vulnerability they've got is potential liability down the road," he said. "When you have people thinking they have normal access like a telephone and they don't, that's going to draw some attention."
While he highlighted that carriers and VoIP companies are aware of the need, Cowles also stressed the difficulty of ensuring a VoIP phone user is matched with the correct, local jurisdiction for emergency services
"There are all kinds of difficult things to deal with," including technical and jurisdictional problems, he said.
Regulation Required
Cowles, who acknowledged Vonage is among those pushing hardest for 911 support in VoIP phones, advised companies to take action on their own so that government is not necessarily required to do so.
"It's been our recommendation that these companies be forthcoming before the government has to do something," he said.
Highlighting the frustration for both industry and local governments, Cowles said there is likely more partnering and progress to come, but that government has little choice right now but to provide more concrete guidelines and deadlines on emergency services with VoIP phones.
"They don't want to do it, but they're going to have to," he said.