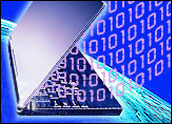 Looking to head off the kind of communications crowding and interference that has disrupted emergency services in times of crisis — and to make room for the continued growth of 802.11 WiFi and other wireless devices, networks and services — the Federal Communications Commission opened up a large chunk of unlicensed spectrum this week.
The commission ordered the availability of an additional 255 MHz of spectrum in the unlicensed, 5-GHz band — an 80 percent increase designed to accommodate more unlicensed devices and "harmonize" the spectrum with worldwide standards to ease the manufacturing of global-capable products, the FCC said.
The additional spectrum will benefit consumers and corporations through improved service and increased competition for Internet and other services, FCC Chair Michael Powell said in a statement.
Yankee Group program manager Roger Entner told TechNewsWorld that the opened spectrum "provides breathing room" for the wireless spectrum used increasingly as wireless networks, including wireless LANs, continue to gain in popularity.
"It gives unlicensed spectrum room to grow," he said.
Wireless Boundaries
Three things — wireless LANs for homes and businesses, hot-spots in public settings and rural broadband access — have driven "enormous" growth of unlicensed spectrum use, according to FCC deputy chief of engineering and technology Jules Knapp.
Knapp told TechNewsWorld that the growth of wireless ISPs — or WISPs — also has contributed to the need for more unlicensed spectrum, with most industry analysts estimating that more than one million users get broadband Internet service through wireless connections.
"What this is going to do is — first of all — avoid congestion as these products continue to proliferate and provide room for the technology to grow in deployment and capabilities these devices can provide," Knapp said.
Spectrum Scoundrels
Entner said the move not only helps the FCC avoid someof the problems associated with interference in thegrowing unlicensed spectrum, but also might help deterspectrum pirates.
"Since it's unlicensed, you have to take into account that not all wireless protocols are playing nice and staying in their spectrum," he said. "Some pieces grab spectrum and kill everything else."
Entner also pointed out the need for the increased unlicensed spectrum — used by hot-spot providers such as Boingo as well as users of residential and corporate networks — because one could easily run out of spectrum when dealing with multiple hot-spots in a high-rise office or residential building, for example.
3G Signals?
While he praised the FCC for heading off potential crowding of the unlicensed spectrum, Entner indicated the commission has a larger challenge in dealing with third-generation wireless spectrum — called 3G for short — which is a collection of budding protocols that will offer much higher data-access speeds than today's wireless networks.
"[The additional unlicensed spectrum] makes one hopeful they'll soon get around the whole mess and assign spectrum for 3G," he said. "That might be a little more difficult."
Entner explained that the unlicensed spectrum in the5-GHz range covers shorter distances, while 3G willrequire the more valuable and far-reaching 2-GHzrange.
The FCC's Knapp told TechNewsWorld that the commissionlast month provided an additional 90 MHz of 3Gspectrum as companies rolled out 2.5G and otheradvanced, data-capable wireless services inanticipation of 3G adoption.
A forthcoming 3G wireless spectrum auction also will make another 90 MHz of spectrum available for 3G networks. Winners in the auction will have their choice of offerings, but the auction date has not yet been set, Knapp said.