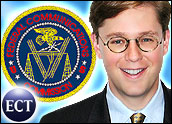 The Federal Communications Commission is planning to auction wireless spectrum to allow in-flight voice and data high-speed Internet connectivity services on U.S. airlines for the first time.
While Verizon (NYSE: VZ) has already been providing in-flight phone services via its FCC-allocated wireless spectrum, the plan represents the first use of wireless spectrum to provide broadband Internet service on domestic flights.
The plan faces technical and other challenges, including the fact that many see domestic U.S. flights as one of the last refuges from sometimes rude, public cell phone use.
Voice, Data or Coffee
Verizon has offered its Airphone in-flight voice service with an FCC-granted license that expires in 2010, but has observed only minimal usage of the in-seat phones, largely because many fliers see the service as too expensive.
Boeing's Connexion also currently provides satellite-based, high-speed Internet services for non-domestic flights, but that service has received mixed reviews for quality, cost and availability, Gartner Research Director Phil Redman told TechNewsWorld.
In-flight connectivity services are currently very expensive to integrate into airplanes and while the FCC's plan will make it somewhat cheaper to provide the services, technology issues related to quality assurance and availability will remain, Redman said.
Despite these challenges, the FCC will auction wireless spectrum for new voice and data services on U.S. flights beginning in May.
Cost and Technology, Peace and Quiet
There will likely be mixed reaction from users of in-flight services, Redman added, some of whom want to spend flying time being productive, and others who want their flights to remain as "downtime."
Redman believes data services make more sense than voice, since research indicates that the bulk of corporate and consumer travelers consider these too disturbing and disruptive for airplanes.
Gartner Research Vice President Ron Cowles maintains that regular cell phone use is not likely to be permitted on U.S. flights because the Federal Aviation Administration (FAA) has stated it will not relax its prohibition of such use.
What is more likely for in-flight voice services, he told TechNewsWorld, is a continuation of the Verizon voice service using phones embedded in airplane headrests.
First-Class Fare
While the addition of data services is likely to make the service more appealing to U.S. fliers, it still represents a significant investment for carriers, Ovum Vice President of Wireless Telecoms Roger Entner told TechNewsWorld.
"I think any successor to Verizon will have more utility out of it because it can be used for voice and data, but overall, it's still going to be a very expensive operation to set up," he said.
Moreover, the bulk of passengers in coach may be unwilling to pay for such services, he opined.