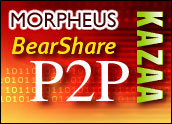 Officials at several U.S. state and federal law enforcement organizations have announced an initiative aimed squarely at use of peer-to-peer (P2P) file-sharing networks for child pornography.
More than 1,000 investigations have been opened in the United States involving the distribution and possession of child pornography. To date, there have been more than 65 people arrested and charged with crimes in the operation that began in the fall of 2003, according to the Federal Bureau of Investigation, the Department of Homeland Security's U.S. Immigration and Customs Enforcement and the Internet Crimes Against Children Task Force (ICAC), which are collaborating on the initiative.
U.S. Assistant Attorney General Christopher Wray of the DOJ Criminal Division said the aggressive, multijurisdictional enforcement action will bring justice to those who exploit children. "This is an impressive demonstration of how law enforcement can effectively address the problem of technology being used to commit illicit and abhorrent crimes against children," Wray said.
Wayne Rosso, CEO of P2P program Blubster's parent company Optisoft, told TechNewsWorld that the P2P industry — harshly criticized as an accomplice in the free trading of copyrighted music — has been working with law enforcement to go after the child-porn problem.
"All of the members of P2P United (a P2P industry group) have been quietly working with the FBI for a long time in helping them bust these guys," Rosso said. "However, we have not been able to talk about how we cooperate in the background."
P2P, Porn and Worse
Federal officials said the cases they are investigating — the number of which will likely increase — involve charges of possession and distribution of child pornography in addition to charges of sexual abuse of children. Officials reported the investigations identified several individuals who previously have been convicted of sex offenses and several registered sex offenders.
Department of Justice spokesperson Bryan Sierra told TechNewsWorld that while officials are actively looking at any kind of media or technology used in facilitating child porn, P2P was a top concern. Officials referred to "the growing volume of illegal child pornography distributed through peer-to-peer file trafficking computer networks" in a statement.
"The trafficking through this particular medium was obviously enough of a concern to get law enforcement at all levels to participate," Sierra said.
Child-Porn Politics
While he said he is unsure whether Optisoft or other P2P United members cooperated in the latest initiative and resulting arrests across the United States, Rosso noted that there is resistance among law enforcement to acknowledge the help of P2P companies because doing so could diminish the political currency against the P2P model.
"I think the bottom line is everyone knows the whole argument about P2P and child porn is a canard and a red herring," he said. "We're being sort of thrown to the wolves for political gain to promote an agenda that is un-American."
Referring to the Recording Industry Association of America as "a puppy mill for pit bulls," Rosso claimed studies have shown that P2P traffic accounts for less than 1 percent of the child-porn traffic on the Internet, but the RIAA lobbying efforts equate to P2P perception problems.
"It's a small problem in reality, but we're the easiest target," Rosso said, referring to work that the P2P companies do to combat child porn, such as a collaboration with the FBI and the TV show "America's Most Wanted," called Operation Milk Carton.
"We want to get these guys more than anybody," Rosso said. "We want to do all we can to bust these guys."
Danger of Facilitating
The DOJ's Sierra said he could not comment on cooperation by P2P or other industry groups, but he did encourage companies to help in the effort by reporting child porn and using structures in place for service providers and others to report it as well.
Sierra said other Internet sources of child-porn trafficking — instant messaging, spam and others — will be targeted as the initiative continues.
Child pornography traffic can be assisted by compromised computers, known as zombies or bots, which are used without users' knowledge. Those compromises are typically caused by worms or hidden programs, known as Trojans, that take advantage of unpatched or otherwise vulnerable systems.
Sierra said part of the investigation in the latest initiative focuses on the difference between a computer user and those found guilty of crimes. He added that computer forensics experts usually can track down routes and find out how child pornography ended up on someone's hard drive.