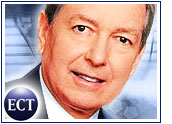 U.S. officials announced a multistate, peer-to-peer (P2P) network user bust, calling it "the first federal enforcement action taken against criminal copyright piracy on peer-to-peer networks," and announcing the execution of search warrants at five homes and an ISP.
The effort of U.S. Attorney General John Ashcroft's office — which this week brought the raids against suspects in New York, Texas and Wisconsin — is called Operation Digital Gridlock and is part of an investigation into the illegal distribution of copyrighted movies, software, games and music over P2P networks, said officials who seized computers, software and other equipment in the searches.
The law enforcement action came on the same day that the Recording Industry Association of America announced an expansion of its legal efforts against suspected illegal file-sharers using networks of P2P providers including eDonkey, Limewire, Grokster and Kazaa.
Both the U.S. Attorney and RIAA efforts against users of the P2P networks and applications follow last week's U.S. Circuit Court of Appeals ruling that P2P operators, such as Grokster, could not be held criminally liable for copyright violations committed by users of their products.
Underground Enabler
U.S. Attorney General John Ashcroft said the crackdown sent a message to "those who steal over the Internet," with Assistant Attorney General Christopher Wray adding that the crackdown represented the first federal law enforcement action against "criminal copyright infringement using peer-to-peer networks."
"The execution of today's warrants disrupted an extensive peer-to-peer network suspected of enabling users to traffic illegally in music, films, software and published works," Ashcroft said in a statement on the group known as "The Underground Network."
Officials reported that the P2P network required its users to share 1 GB to 100 GB of computer files with other network users.
Although officials boasted of the bust as a demonstration of its commitment to combating piracy, "regardless of the medium used to commit these illegal acts," experts and studies have shown that the RIAA lawsuit efforts targeting P2P users have pushed the file-sharing to other Internet means, including e-mail and instant messaging.
Industry Support
Although neither the RIAA nor federal officials indicated any coordination, the federal copyright crackdown coincided with the RIAA's announcement of 744 new individuals accused of P2P file-sharing and being sued by the recording industry group.
Since its legal campaign against alleged illegal file-traders began last September, the RIAA has taken legal action against more than 2,500 people who were supposedly using P2P file-sharing programs.
The RIAA said its lawsuits were filed in New York, Texas and Wisconsin, as well as six other states, and indicated a widening of its P2P legal net.
"We are adjusting and expanding our efforts to target illegal file-sharing on additional platforms like eDonkey and others," said RIAA president Cary Sherman in a statement.
Actions Follow Losses
This week's law enforcement and legal action against P2P users, and possibly also an ISP raided Wednesday, come one week after a U.S. Circuit Court of Appeals in San Francisco ruled that P2P software makers are not liable for copyright infringement. The ruling also indicated that file-sharing applications such as Grokster also have legitimate purposes.
Wayne Rosso, former CEO of P2P software maker Optisoft, told TechNewsWorld that the courts in the U.S. and elsewhere have repeatedly ruled that the P2P software makers are not responsible for what individuals do with that software.
"They're trying to hold us responsible for people illegally using our software," he said. "It's ridiculous."
Positive Public Opinion?
Claiming success in its campaign to educate users on the illegality of trading copyrighted music, movies and software online, the RIAA also pointed to a survey by Peter D. Hart Research Associates that reveals those polled are supportive and understanding of the RIAA legal strategy by a margin of 60 to 17.
Yankee Group senior analyst Mike Goodman conceded that the RIAA's efforts have changed the behavior of some U.S. file-traders — who now share fewer songs to avoid sticking out — but he vehemently disagreed with the RIAA's survey numbers.
"In reality, people like music, not the labels," Goodman told TechNewsWorld.