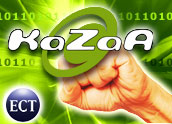 A former Romanian software programmer who now works for Microsoft has filed a $25 million lawsuit against peer-to-peer (P2P) leader Sharman Networks, which owns and runs the Kazaa file-sharing utility that the man, Fabian Toader, claims is his work.
Toader, who worked on a freelance basis for Kazaa from Romania four years ago, claims he never signed any agreement with the company, which was purchased by Sharman in early 2002. Through a suit filed in Los Angeles earlier this month, he is asking for damages of $25 million.
Sydney, Australia-based Sharman, however, contends Toader is simply making a repeated attempt to elicit money after failing earlier to extort payment from the P2P purveyor. Sharman, which obtained an injunction against Toader after allegations of extortion last August, also indicated Toader is suing in the wrong jurisdiction.
A source at Sharman told TechNewsWorld that it would be a "reasonable inference" to assume the company will try to have the case thrown out on the basis of an agreement between Toader and Kazaa, which stipulated that disputes be settled in Amsterdam.
"The consulting agreement that dictated the rights and obligations of the parties required that any dispute be adjudicated in the courts of Amsterdam, pursuant to the laws of the Netherlands," Sharman said in a statement.
Copyright Claim
Sharman and Kazaa are no strangers to copyright claims, as the Recording Industry Association of America (RIAA) and other entertainment industry groups have sought to shut down the P2P service on the basis of copyright infringement.
In the Toader case, the software coder who now lives in Microsoft's hometown of Redmond, Washington, refutes that he signed any contract with Kazaa and contends he is the copyright owner of the software, which he claims to have written in Romania in 2000.
Toader argues that according to Romanian and U.S. copyright law, he is entitled to the damages award.
"Sharman has made millions using my software," said a Toader statement. "I just want to be fairly compensated for my contribution."
File-Sharing Shakedown
Sharman tells a different story, pointing to last year's injunction that resulted from Toader's alleged effort to blackmail the company.
"Mr. Toader had threatened to release over the Internet Sharman's early version of the confidential Kazaa Media Desktop source code unless he received a substantial cash payment from Sharman," the company said.
Sharman claims it obtained all rights to Kazaa Media Desktop from Kazaa BV in early 2002, when it acquired the popular file-sharing utility. The company claims Toader worked on early versions of the software under a work-for-hire agreement that expressly grants ownership and rights to any work related to the software's development to Kazaa.
"Sharman regards this recently filed Los Angeles lawsuit as nothing more than Mr. Toader's most recent shakedown effort," the company's statement said.
Tables Turn
The Toader case is not the first instance of Kazaa owner Sharman undertaking a role reversal on copyright. Last September, the company successfully lobbied Google to remove links to the Kazaa Lite service — a knockoff stripped of spyware, adware and pop-up ads — based on copyright claims.
Analysts said the move, which angered Kazaa Lite users, marked Sharman's movement from free file-trading to a more legitimate service that may compete with Apple's iTunes and other online music stores. Sharman also released Kazaa Plus, which costs $30 and is not supported by advertisements that come in the free version of the software.
"Any time you have a file-trading network using copyright law to their advantage is a little bit of a switch," Yankee Group senior analyst Mike Goodman told TechNewsWorld. "On the other hand, these networks don't see themselves as any different from Xerox because they're not the ones breaking copyright law."
Allegations Denied, Agreement Doubted
Toader's attorney, Marc Fenster, told TechNewsWorld that his client vehemently denies the allegations of blackmail, calling the injunction Sharman refers to an ex-parte injunction obtained without notification to Toader.
Fenster, who said that case has been stayed as a result of the federal suit filed in Los Angeles, also said Toader did not sign any work-for-hire or other agreement with Kazaa, other than a nondisclosure agreement "that had nothing to do with work for hire or written assignment."
Fenster also indicated that despite repeated requests, Sharman has been unable to produce an agreement between Toader and Kazaa.
"We've asked them for a written agreement, and they say they can't find it," Fenster told TechNewsWorld. "I can't respond to allegations they say about an agreement or document that we don't believe exists and which they have been unable or unwilling to produce."