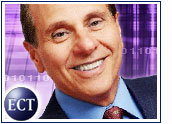 Backing up its declarations that it will refocus on core competencies and protect and grow its communication strength, mobile phone maker Motorola has selected former Sun Microsystems president Edward Zander as its new chairman and chief executive officer.
Zander, 56, will take the helm of a 75-year-old company that grew into a top communications and semiconductor player but was diffused by an overly diverse range of products, according to analysts.
President and chief operating officer at Sun until 2002, Zander more recently served as managing director of technology equity fund Silver Lake Partners. He will take over as Motorola's chief beginning January 5, 2004. Current Motorola president and chief operating officer Mike Zafirovski, who was in the running for the CEO position, will retain his current title.
"Edward Zander brings a wealth of high-tech experience to a high-tech company," Aberdeen Group chief research officer Peter Kastner told TechNewsWorld. "Motorola has laid out plans to reinvent itself, and it will be Zander's job to drive those changes."
Take-Charge Guy
Zander replaces the somewhat embattled Chris Galvin, who is leaving as Motorola's CEO after reported run-ins with the company's board of directors. Zander, also a board director of Seagate Technology and of several educational and nonprofit organizations, indicated he is anxious to dig in at Motorola, which is being challenged by both a sinking stock price and surging competition.
"Motorola is a global icon with a powerful base of technology, customers and employee assets that are invaluable to millions of users every day," Zander said in a statement. "I look forward to working with the management team to establish Motorola as the definitive industry force for today as well as the next global generation."
While he expressed uncertainty about whether or not the selection will impress Wall Street and Motorola investors, Aberdeen's Kastner said Zander's computer industry background is important "at a time when digital technology is creating new opportunities for consumer electronics."
"Zander is a take-charge guy in a company that's been searching for new levels of zeal and enthusiasm," Kastner said.
Back to the Core
IDC analyst Alex Slawsby said that despite Motorola's high profile and the diversity of products and services it brings to the market, the company realized recently that it was spreading itself too thin.
"It came to a point where they were quite diverse," Slawsby told TechNewsWorld. "[Motorola] really decided it needed to focus on the core components of the company."
While he described Motorola as a "communication and semiconductor powerhouse" before the company's troubles, Slawsby said the new focus is evident in Motorola's departure from semiconductors in favor of its communications strength.
Running the Range
Slawsby noted that despite its slip in stock price, Motorola remains the number two mobile phone maker in the world, second only to Nokia. However, Motorola's position is being seriously threatened by a range of vendors, particularly from the Asia-Pacific market, such as Samsung.
Slawsby said Zander's experience working successfully with Sun's diverse line of products and services bodes well for what the new CEO faces at Motorola. "Zander brings a range of history," Slawsby said. "At Sun, they saw huge growth in revenues and he did a great job in a range of areas, which ties into Motorola's goals with communication."
Slawsby said that because the technology industry is full of "talk, verbiage and discussion," the verdict on Zander from investors will not be in until the results of his work are reflected in Motorola's performance.
"Zander should be a positive addition," Slawsby said. "What really matters is execution and results and Motorola's ability to strengthen and grow its existing investments."