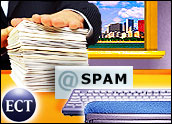 The Federal Trade Commission (FTC) this week claimed the CAN-SPAM Act has cut down on the number of unsolicited spam e-mails reaching consumers, indicating the legislation and improved anti-spam technology have resulted in less spam this year compared to 2003.
The FTC also announced a cross-border spam crackdown with Canadian authorities and urged enhancement of CAN-SPAM through Congressional enactment of the U.S. Safe Web Act, which is aimed at spammers operating outside of the U.S.
Although some view CAN-SPAM as a necessary component in the fight against spam, other industry observers downplayed the effectiveness of the legislation and indicated the reduction in the unsolicited email could be more accurately credited to improved, network-based spam blocking.
"Legislation is not the answer," Basex CEO and chief analyst Jonathan Spira told TechNewsWorld. "I don't think we will ever legislate spam away."
Credit for Containment
While FTC officials conceded it is difficult to tell whether legislation, increased awareness or improved technology was responsible for curbing the amount of spam consumers are receiving, the Commission said "rigorous law enforcement" has deterred spamming efforts.
"We're using technology and teamwork in the battle against illegal spam," said a statement from Lydia Parnes, director of the FTC's Bureau of Consumer Protection. "Taken together, they are helping us combat the outlaw spammers who disregard laws designed to prevent fraud and protect consumers' rights."
In its CAN-SPAM report to Congress, the FTC said the Act has been effective in protecting consumers from spam, indicating state and federal enforcement of the law, including 21 cases brought by the FTC, was working.
Slicing Into Spam
E-mail security firm MX Logic reported that only 4 percent of unsolicited commercial e-mail complied with the two-year-old CAN-SPAM Act this year, up from only 3 percent in 2004. MX Logic reported that on average, spam accounted for 68 percent of all e-mail traffic it monitored in 2005, compared to 77 percent of all traffic last year.
MX Logic CTO Scott Chasin told TechNewsWorld while the actual amount of spam may not be down, the amount of spam getting through to email inboxes has been reduced.
He said the reason was not the legislation — which was still a necessary component and a boost for awareness — but was technology, such as content filtering and traffic shaping."The real champion here is not the legislation, it's the technology," Chasin said.
Awareness Up
Spira, whose firm estimates spam costs businesses worldwide about US$20 billion per year, said the amount of spam hitting e-mail boxes has declined, but he hesitated to credit CAN-SPAM for the reduction.
Instead, he credited network-level spam blocking and an increased awareness among e-mail users.
"The one thing the law did do is heighten awareness," he added.
More Serious Threats
Spira also said that many spammers are likely moving to more criminal activities, such as the bogus identity and information theft ploys known as phishing.
"There's certainly more criminal activities going on with phishing and such, which have less to do with spam and more to do with vulnerabilities in SMTP and the openness of the Internet infrastructure," he said.
Spira added CAN-SPAM may have moved spamming activity outside of the U.S., but added the trend has been less than what was anticipated before enactment of the anti-spam law.
Need for Illegality
Industry analyst Joyce Graff of Graff and Company told TechNewsWorld that while CAN-SPAM cannot be credited solely for the reduction in spam, it is an integral part of solving the problem.
"I think it's certainly a contributing factor and I certainly see the need for it," she said. "We need to make it illegal. I think it's definitely a requirement. It's one element."
Graff said advances in authenticating spam senders would be even more effective in cutting down on the amount of unsolicited e-mail.
"Because [spammers] feel they can be anonymous, then they are willing to be so annoying," she said.