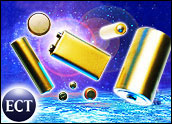 A Japanese company is heralding its new fuel cell technology, claiming that it might be readyfor mobile PCs within the next two years. Industry analysts, however,point to several major hurdles for the technology, which has already beenheralded several times before.
Materials and Energy Research Institute Tokyo (Merit)claims that its borohydride fuel cell technology is smaller, smarter andcheaper than other fuel cell approaches, making it a likely candidate topower PCs in a matter of a few years.
But observers such as Gartner Vice President Martin Reynolds areskeptical of the technology, which faces obstacles including: difficulty of providing adequate power for today's hungry computers, contamination of fickle fuel chemicals andcomponents, and the availability of fill-ups.
"This is always next year," Reynolds told TechNewsWorld. "It's been nextyear for the last five years."
Smaller, Cheaper
Merit announced that its Direct Borohydride FuelCell (DBFC), an alternative to other fuel cells that rely on methanol fuel,could be available for computers for less than US$100 in less than twoyears.
The Japanese company said its borohydride-based, watery solution hadaddressed the fuel storage issues that are paramount for fuel cells.
"The method of using borohydride instead of gaseous hydrogen has manyadvantages," Merit said on its Web site. "First of all, the storage problemhas been solved. For mobile applications, no special devices such asdangerous, high-pressure cylinders or an energy-consuming apparatus whichchills down to liquid hydrogen state are needed."
Merit said its borohydride fuel is safe, operates at low temperatures,contains a high H-capacity of hydrogen and is "as easy to handle asgasoline." The company also said the DBFC solution delivers better performance andyet is cheaper than other fuel cells.
"The borohydride complex ion makes it possible," the company said. "Itreleases eight electrons instead of just four for the electricityproduction. This fact leads to higher overall performance of our DBFC."
Challenges Ahead
Gartner's Reynolds, however, indicated there are still several issues thatremain for the practical application of fuel cells in PCs. He said thebiggest challenge is the rate at which energy can be used from a fuel cell,which might not be able to power a typical computing session.
Fuel cells also face the issue of sensitivity, leaving the chemicals andcomponents involved in the technology prone to contamination or failure.Reynolds also said fuel cells might leave users unable to refill orrecharge power supplies as easily as today's technology, which requires onlyan electrical outlet.
"If we were all using fuel cells today, we would all be looking forwardto the invention of the battery," Reynolds said. "It's interestingtechnology, but it's one of those things where the interest is far greaterthan the practical usefulness of it."
Reynolds said the one place where the issues around fuel cells might beovercome is the military, which has led the way with other computinginnovations in the past.
Computer Like a Phone
IDC analyst Alan Promisel agreed that current fuel cell technology islimited, but he told TechNewsWorld that all of the major PC makers areresearching new ways to power PCs with fuel cells.
The concept is to be able "to unplug your computer, use it all day and not worry aboutcharging it until you got home at night," Promisel said."The major inhibitors are cost and size, which right now is no good for thethin and light form factor."
Promisel said while there are prototypes of fuel cells for PCs, truedeployment of the technology is at least a few years away.
The analyst added that while the cost to make fuel cells might be comingdown, there is no standardization or agreement on how to integrate thetechnology into today's PC market.