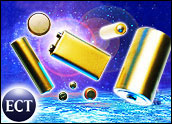 Japanese electronics and handset giants Fujitsu and NTT DoCoMo proudly proclaimed joint development of a high-capacity micro fuel cell with recharger for mobile handsets this week, but analysts said that batteries continue to push the envelope ahead of such technologies, which have long been promised by industry.
Fujitsu and NTT DoCoMo stated that they had boosted the methanol fuel concentration of their cell from 30 percent to 99 percent, enabling better performance and longevity of the cells that require fuel cartridges.
The companies claimed the micro fuel cells offer a theoretical performance of 10 times that of today's popular lithium ion batteries, and are equipped for high-density energy storage at levels three times greater than lithium ion.
Old Promises Unfulfilled
Industry analysts, however, observed that fuel cells have long been predicted, but have never made it to market. They also pointed to improvements in today's batteries, which do not typically present energy problems, even with heavy mobile phone usage.
"If we were all using fuel cells and someone invented batteries, we would be excited about it," Gartner Research Vice President Martin Reynolds told TechNewsWorld. "Batteries keep setting the bar higher. Fuel cells don't look as good as they used to. It's not a breakthrough yet."
Nevertheless, Fujitsu and NTT DoCoMo said their joint development of the micro fuel cell and external recharger would enable prototype handsets that could charge less frequently and have longer lives, while also reducing the environmental impact of technology.
The companies said they had removed major barriers to fuel cell application in handsets by using a new material that increases the methanol fuel efficiency, and by recycling the water by-product that comes from power generation to dilute the higher-concentrate fuel.
The companies will show the prototype phone at the Wireless Japan 2005 conference next week and later this month at the Fujitsu Forum in Tokyo, they said.
Batteries Tough to Beat
Reynolds reiterated that batteries for mobile phones are already adequate for most users. Even when fuel cells are used, he said, they are typically applied alongside batteries that are better able to deliver power.
The analyst pointed out two challenges for fuel cells: first, while they can store a great deal of energy, they cannot deliver it quickly; and second, they deteriorate and require replacement quickly. Until those obstacles are overcome, batteries will maintain their dominance.
Reynolds added that the market has yet to embrace a fuel cell technology for mobile devices, even though they have been available.
"We see a lot of announcements and demonstrations, but we very rarely see anything useful come to market," he said.
Limited to Concept
Yankee Group analyst John Jackson echoed Reynolds, telling TechNewsWorld that although the multimedia, 3G mobile phones of tomorrow will demand much more efficient power management and battery life, fuel cells continue to be limited to theory.
"I think fuel cells are a great concept, but they have yet to have any bit of traction in the market," he said. "We've been talking about them forever, but we've never seen them in the market."
Jackson said fuel cells for handsets are typically limited by cost, size and performance issues, and are still a long way from being viable products.
"It's kind of a perennial story, but nothing ever seems to come out of it," he said.