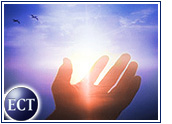 A leading Green researcher and environmental advocate who was among the first to warn of the effects of global warming has caused a stir with his idea that a faster, more troubling timetable of climate change requires an embrace of nuclear energy.
While warnings over global warming and an end to nuclear energy have been basic tenets of the Green environmental movement, James Lovelock, 84, wrote in the United Kingdom's Independent this week that the only way to act effectively against rising temperatures and arctic melting is to turn to nuclear energy, which he called "the only one immediately available source" that does not cause global warming.
"Opposition to nuclear energy is based on irrational fear fed by Hollywood-style fiction, the Green lobbies and the media," Lovelock wrote. "These fears are unjustified, and nuclear energy from its start in 1952 has proved to be the safest of all energy sources."
The environmental veteran warned that people "must stop fretting over the minute statistical risks of cancer from chemicals or radiation."
"Nearly one-third of us will die of cancer anyway, mainly because we breathe air laden with that all-pervasive carcinogen, oxygen," Lovelock wrote. "If we fail to concentrate our minds on the real danger, which is global warming, we may die even sooner, as did more than 20,000 unfortunates from overheating in Europe last summer."
Consuming Coastal Cities
Lovelock, who was among the first scientists to study climate change and the effects of greenhouse gases on global warming, indicated arctic warming and melting is occurring more quickly than previously predicted, threatening cities and people more quickly, too.
"The complete dissolution of Greenland's icy mountains will take time, but by then the sea will have risen seven meters, enough to make uninhabitable all of the low-lying coastal cities of the world, including London, Venice, Calcutta, New York and Tokyo," he said. "Even a two-meter rise is enough to put most of southern Florida under water."
Lovelock said there is a chance "we may be saved by an unexpected event such as a series of volcanic eruptions severe enough to block out sunlight and so cool the Earth," but he added that, regardless of doubts about future climates, both greenhouse gases and temperatures are rising.
Need For Nuclear
While he was critical of U.S. policy and a lack of adequate scientific study and support from the government, Lovelock said the risks of climate change supersede the risks of using nuclear energy.
Lovelock, now an independent scientist but still calling himself a Green, is the source of the Gaia hypothesis, which holds that Earth, much like its inhabitants, is a self-regulating and maintaining entity.
"We have no time to experiment with visionary energy sources," he said. "Civilization is in imminent danger and has to use nuclear — the one safe, available, energy source — now or suffer the pain soon to be inflicted by our outraged planet."
Change, Don't Choose
However, other environmentalists are critical of the idea that there is no choice but nuclear to deal with global warming.
"I don't think we have the evidence right now to say everything is moving faster and our back's against the wall," Sierra Club director of global warming and energy Dave Hamilton told TechNewsWorld.
Hamilton said that while efficiency measures could make as much of an impact as nuclear alternatives, nuclear energy is not, as some argue, free of greenhouse-gas carbon dioxide production. In addition, he said, the issues surrounding the security of nuclear power plants are also of great concern because of terrorism.
"It's just not the panacea the industry makes it out to be," Hamilton said. "I think there are more palpable effects in 2004 than we thought there would be. Does it mean the end of civilization is near? I don't think so."
Although he agreed there is now only a short time left to undertake an "energy revolution," Friends of the Earth director Tony Juniper said the nuclear answer is not actually as efficient as reducing energy waste and introducing clean technologies such as solar and wind power.
"It is cheaper than an alternative nuclear-based strategy, could generate many more jobs, but must begin right away," Juniper wrote in an e-mail to TechNewsWorld. "Dangerous climate change and radioactive waste both pose deadly long term threats and we have a moral duty to minimize the affects of both, not to choose between them."