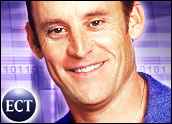 In a move aimed at bolstering its business model after struggling in the PC space and attempting to move into the consumer-electronics market, Gateway has announced it will buy low-end PC seller eMachines for 50 million Gateway shares and US$30 million in cash. It is a deal altogether worth about $234 million.
The deal will make the combined company the third largest PC seller in the United States behind Dell and HP. Gateway hopes to leverage eMachines' retail channels and low-cost distribution model to extend its own retail reach and pump up its PC business.
"eMachines has created an operating structure, growth trajectory and reputation among customers that is a model for the future," said Gateway founder, chairman and CEO Ted Waitt. "They're bringing to Gateway a strong brand that has grown dramatically in value over the past two years relative to its retail competitors and one of the most capable management teams in the PC world."
Analysts agreed that depending on Gateway's ability to capitalize on the acquisition, the strategy could turn around the company's slide. "Bottom line, it could be a successful move for Gateway, but there are no guarantees," Gartner research vice president Martin Reynolds told TechNewsWorld. "They will target going for a high-volume, low-price model."
Gateway Goes Low To Get Up
Gateway has been among the hardest-hit vendors amid declining PC sales and the lagging economy. The company reported this week another quarterly loss and a 25 percent drop in PCs shipped.
To stem its losses and address the low-end PC market — where the company has struggled most — Gateway said that in addition to selling its own brand of computers through existing channels, it will sell eMachines desktops and notebooks under the eMachines brand through third-party retail outlets.
Gateway still relies on PCs for the bulk of its business despite having made moves into the consumer-electronics space. The company said it expects to return to sustained profitability in 2005 as a result of sales-volume increases and planned cost savings.
Business Model Benefits
Reynolds said Gateway needs the low-price volumes it is getting through the deal to run its business model. "[The company's] attempts to grow its low-priced business did not work out last year," he said. "eMachines has retail volume and will allow Gateway to build a second brand to address this market."
IDC analyst Alan Promisel said the move might prove fruitful for Gateway if the Poway, California-based company can execute and compete in the low-end PC market. However, he indicated that the company has not met the challenge thus far.
"One thing that Gateway had trouble doing the last couple of quarters is execution," Promisel told TechNewsWorld. "You would have thought after yesterday's earnings call that they would pull out of the low-end space."
Retail Reach Extended
Nevertheless, analysts agreed that the deal, in which eMachines CEO Wayne Inouye will become CEO of Gateway while Gateway's Waitt will be chairman of the board, also will give Gateway additional retail channels for its consumer-electronics products, which include digital cameras, LCD displays, plasma TVs, DVD players and home theater systems.
Promisel said the deal does get Gateway into new retail channels and added that the larger company created by the addition of Irvine, California-based eMachines likely will help the company save with lower, volume-based component pricing. However, he stressed, it all hinges on execution.
Reynolds agreed but indicated it will not be easy to mirror eMachines' success in retailer relationships and low-cost distribution.
"It also opens up channels for Gateway's consumer products," Reynolds said. "The challenge is going to be managing inventories in the retail environment."