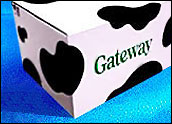 Gateway upped the ante for plus-sized computer monitors with the Thursday rollout of its latest flat screen, which offers users resolutions at more than four times the level of a standard 720p high definition. Billing it as "the world's first 'Quad-HD' display," Gateway said the XHD3000 is perfect for consumers desirous of "truly remarkable, cinema-quality" viewing.
"The Gateway XHD3000 takes a dramatic step forward in expanding Gateway's award-winning line of HD displays and raising the bar for display technology," said Gary Elsasser, senior vice president of products at Gateway. "Its combination of leading-edge technology and usability features makes it the most advanced and versatile display on the market, and the only display available that is truly equipped to handle any PC or CE video device."
The XHD3000 will be available through Gateway's Web site and 1-800 number as well as at technology and electronics retailers. It is priced at US$1,699.99.
Four Times the Charm
What might set this display apart from similar offerings by Dell and Apple is not necessarily its size, its 1,600p resolution, or its ultra-wide 178 degree viewing angle. It's not even the monitor's 1,000:1 contrast ratio, 400 cd/m2 brightness or zippy 6-ms refresh rate. Rather, it is the video processor that enables the monitor to process multiple video inputs, including an HDMI (high-definition multimedia interface) interface, single and dual-link DVI (digital visual interface) component, S-video, composite and VGA (video graphics array) connections. It supports input from devices such as a TV, a game console, a set-top box, a DVD player and, of course, a computer for up to six video inputs simultaneously.
Gateway's new 30-inch widescreen LCD (liquid crystal display) monitor is capable of rendering 2,560 by 1,600 pixels with the use of Silicon Optix Realta HQV chip and can also upscale 1,080p high-definition video to 1,600p. The hardware maker's claims may include a touch of hyperbole, Tom Mainelli, an IDC analyst, acknowledged, but it offers at least the same resolution as existing models.
"The Silicon Optix Realta HQV video processor allows the monitor to process whatever video you throw at it," he pointed out. "Other current generation 30-inch monitors lack such a processor, which means they require a dual-link DVI connection to the PC. That means you'll need a high-end graphics card, and it also means you typically can't connect it to a notebook."
Aimed at both the workplace and the home "enthusiasts" segment of the market, the monitor will pique the interest of serious PC gamers as well as those looking for a monitor that can double as an entertainment center, thanks in part to the unit's large array of inputs, he told TechNewsWorld. Designers of all types will also find the monitor to their liking on a professional level, Mainelli added.
Features Galore
In addition to its ability to process a wide variety of video inputs, the XHD3000 also includes a range of screen controls not available from other manufacturers as well as picture-in-picture functionality. It includes a four-device universal infrared remote control. In addition to six built-in, self-powered USB (Universal Serial Bus) ports, the monitor also comes with EzTune software, an anti-theft application, that enables users to set the display to function with a specific PC and disable functionality if it is disconnected or removed.
"Other 30-inch displays also lack a full complement of screen controls, and they don't offer all the inputs of the Gateway," Mainelli said. "In this regard, the Gateway has a distinct advantage over other current generation 30-inch displays."
According to Mainelli, the XHD3000 is a "very competitive product.
"It costs more than Dell's current generation 30-inch LCD, but it is far more flexible," he noted. "Apple's 30-inch display remains a stunning looker, but it too lacks the input, video processing and overall flexibility of the Gateway. Plus it still costs more."
For those who say that a 30-inch monitor is a simply overkill and much too big to use, Mainelli said Gateway's new monitor could break through that bias.
"From a usage standpoint, some people consider 30-inch displays simply too big," he explained. "If you're sitting right up close to the monitor you'll find you actually have to turn your head from left to right to take in the entire screen."
As a result, he continued, vendors have begun rolling out new LCD monitors that fit in between the traditional 24-inch and 30-inch categories. They are trying to win over users who want a screen bigger than the 24-inch models but smaller than the huge 30-inch monoliths, offering measurements at 26, 27 and 28 inches.
"On paper, Gateway has put together a very solid product here," Mainelli acknowledged. "I will be interested to see how it fares in this increasingly competitive segment of the LCD monitor market."