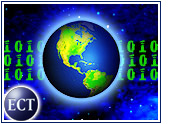 With a goal of connecting all villages, schools, hospitals and governments by 2015 to put half the world's people within reach of information and communication technology (ICT), the U.N. opened the first-ever global summit on information in Geneva, Switzerland this week.
International issues such as socioeconomic divisions, censorship and governance all have been highlighted and intensified by the Internet, which U.N. Secretary General Kofi Annan called a tool to be leveraged against world issues such as illiteracy and poverty.
"From trade to telemedicine, from education to environmental protection, we have in our hands, on our desktops and in the skies above, the ability to improve standards of living for millions upon millions of people," Annan said before heads of state at the World Summit on the Information Society.
However, Annan warned that an open, inclusive information society that benefits all people will not emerge without sustained commitment and investment, adding, "We look to you, the leaders assembled here, to produce those acts of political will."
United States Not Represented
The United States was among other prominent Western nations not represented at the summit, but U.N. officials said the countries had been involved in preparatory work on the event and its agenda.
Still, there was a sense that the more developed nations were hindering the effort by not attending. Shashi Tharoor, U.N. Undersecretary General for Communications and Public Information, said the event was a "missed opportunity" for those that did not attend.
"This was not merely a gathering to discuss technological issues, but a chance to set policy in the first 10 years of the 21st Century," said a statement from Tharoor's office.
Global Asset
Annan remarked at how the summit, which included attendance from nearly 14,000 government, science, media and other representatives, was different from typical global conferences.
"Where most global summits focus on global threats, this one will consider how best to use a new global asset," Annan said.
The U.N. leader conceded that information technology is not a panacea or magic formula, but said it could "improve the lives of everyone on this planet."
Digital Divisions
As they addressed international issues of IT inequity, U.N. leaders discussed the so-called "digital divide" as "several gaps in one," with the implication being that there is not just a single digital divide.
The international body alluded to the technological divide but also referred to the content divide, which has separated the haves and have-nots in terms of Web-based information.
The U.N. also indicated that there is a worldwide gender divide that favors access for males; and a commercial divide that is acting as a barrier to equitable trade.
Among the measures stressed by the U.N. to bridge those divides is the need for more multilingual content and local Internet programming.
Common Language
Martin Spethman, cofounder and managing partner of software and Web site internationalization firm Globalization Partners International, said companies have gotten better at avoiding English-centric Web development.
"The better way to do it is to design with multilingual or international issues considered from the start," Spethman told TechNewsWorld.
Spethman said that with the internationalization of software and Web sites changing "at Internet speed," developers have become smarter at multilingual content and development. Although offshore outsourcing is blamed for a loss of U.S. technology jobs, Spethman said the trend toward outsourcing has resulted in more international developers who already have foreign language and culture experience.
Joint Responsibility
Frost and Sullivan senior analyst Mukul Krishna told TechNewsWorld that one of the biggest issues perpetuating the digital divide is the idea that "English is the language of the Internet."
Krishna said that although powerful companies in the United States and elsewhere might not see that they have a vested interest in ensuring diversity of languages and localized content, recognizing the necessity for such strategies will deliver companies a larger audience and market.
"It should be a shared responsibility among the developed world and the developing world," he said. "It's not a one-way street."
Consistent with this sentiment, the U.N. outlined the roles and responsibilities of all stakeholders, including government and industry, in its draft plan of action, which will be reviewed at a second phase of the summit in November 2005 in Tunisia.