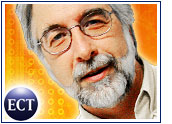 The seemingly unstoppable tide of junk e-mail known as spam has resulted in several different technologies and approaches to combat the inbox clutter, but one tactic has recently gained the attention of major ISPs such as Yahoo and MSN: e-mail postage.
While consumers might find spam an annoyance and corporations might view it as a waste of time and productivity — particularly with cost estimates at US$20 billion per year — legitimate e-mail marketers are also experiencing frustration that their messages, which have often been requested by users, are getting lumped in with spam and dumped as unwanted by mail filters.
Goodmail, a startup company with the motto "restoring trust in e-mail," claims to have a solution for all parties in its e-mail stamping technology. TechNewsWorld talked with company president and CEO Richard Gingras to get a sense of how he sees spam getting licked with stamps.
TechNewsWorld: Can you explain how the Goodmail technology works?
Richard Gingras: Goodmail Systems' patented platform works as follows: Senders of volume e-mail attach paid stamps to their outgoing messages. These encrypted stamps include verification of the sender's identity and require the sender to honor a "trusted unsubscribe" mechanism enforced by Goodmail Systems.
On the receiving end, participating ISPs use Goodmail Systems' Stamp Filtering Gateway to detect and validate the stamps and allow the validated messages to bypass spam prevention technologies, thereby eliminating false positives and allowing legitimate volume mailers to interact with consumers in a reliable, trusted manner.
TNW: How is this different from antispam watermarking or bonding approaches used by companies such as Habeas or IronPort?
Gingras: The important difference between Goodmail Systems and Habeas and IronPort is an economic model that truly motivates senders to think carefully about their volume sending behavior, and provides ISPs the economic benefit to continue to offer low-cost e-mail and Internet access services.
TNW: Why do you feel that adding these kind of economic consequences for sending spam is the best way to cut down on junk e-mail?
Gingras: Without economic consequences, there is no motivation for volume mailers to carefully manage their lists and be efficient with their mailings. Unless volume senders pay, the costs of the e-mail infrastructure and the ongoing battle against spam will be borne by ISPs and ultimately consumers. Last fall, BellSouth announced an increase in their Internet access fees and said the primary reason was the high cost of spam prevention.
Goodmail Systems research indicates that 86 percent of consumers are concerned that ISPs will increase access fees due to spam prevention. Using the Goodmail Systems platform to shift the economic burden from ISPs to volume mailers will allow consumers to continue to enjoy moderate- to low-cost Internet access. The myth is that e-mail is free. The reality is that ISPs — and indirectly consumers — bear the majority of the cost of e-mail, and this cost has risen dramatically due to the battle against illegitimate volume sending.
TNW: How can it be effective if not every ISP is participating?
Gingras: Goodmail Systems' volume mail stamp solution does not require wide adoption. It provides benefits to volume mailers and consumers on an individual ISP basis. Volume mailers have told us they will use the Goodmail platform as soon as we are operational with a single ISP.
TNW: Which major ISPs are you in discussions with regarding the use of Goodmail's technology?
Gingras: We are engaged in constructive discussions with most major ISPs. Yahoo has publicly disclosed that they are working with Goodmail Systems to evaluate the stamp platform.
TNW: How long until we are likely to hear announcement of a major deal with one or more of them?
Gingras: We will announce ISP partnerships when we, and most importantly our partners, are ready to do so.
TNW: Are you working toward deals with multiple, major ISPs at the same time to increase the effectiveness of the approach?
Gingras: Yes.
TNW: Who gets the revenue from the postage fees?
Gingras: A substantial portion of stamp revenues will be shared with partner ISPs who clear the stamps — revenue that they can use to offset spam prevention costs, enhance member services and maintain low Internet access fees.
TNW: What is your response to concerns that ISPs will embrace the additional revenue from these postage fees and in turn pass them on to all users, including consumers?
Gingras: No ISPs have expressed any interest or desire in imposing a consumer-pays stamp model. Consumer sending is not the driver of e-mail infrastructure expense. And competitive forces would never allow such an approach to get off the ground.
TNW: What other concerns, criticisms or perceptions do you most frequently encounter, and what is your response?
Gingras: Only the misperception that Goodmail Systems' model would require consumers to buy stamps — a misperception that has come about because of other electronic stamp models that have been discussed in academic circles and recently by Bill Gates. Goodmail Systems sharply disagrees with any consumer-pays model, and we don't believe such models will ever be accepted.
TNW: How do volume senders qualify to purchase and use Goodmail stamps?
Gingras: A volume sender needs only to do the following: First, support Goodmail Systems' efforts to verify their individual or corporate identity. Needless to say, simply entering a credit card number won't allow a prospective buyer to purchase a million stamps. Second, agree that their unsubscribe mechanism will be reliable and cooperate with Goodmail Systems' efforts to monitor and enforce that unsubscribe mechanism. Third, pay one cent per message.
TNW: Will the pricing be the same for nonprofit senders?
Gingras: We are considering price discounts for legitimate noncommercial, nonprofit senders.
TNW: What benefits would consumers realize from the Goodmail solution?
Gingras: There are many consumer benefits to Goodmail's Trusted Class of e-mail. They will receive messages they expect to receive, messages that are now too frequently mistaken for spam and dropped into spam folders or discarded entirely. Our research has shown that 67 percent of consumers have had direct experience losing messages to spam filters, such as an order confirmation from Amazon, a newsletter from the New York Times or a sales offer from a favored retailer.
Their efforts to unsubscribe will be honored. According to our research, 69 percent of consumers do not trust unsubscribe mechanisms today.
They can optionally block adult content within the Trusted Class of e-mail. They can continue to enjoy Internet access without fear that fees will increase due to the high cost of spam prevention. They can be comfortable that all messages within the Trusted Class of e-mail will be from senders who are not hiding behind anonymity. They will experience a further reduction in incoming spam because ISPs will be more inclined to tighten spam filters since the stamped messages will further prevent false positives.
TNW: Why is Goodmail the right company to offer this solution?
Gingras: There are many players with valid interests in the health of e-mail. It is extremely important that the provider of an effective stamp platform be an entity that is nonthreatening to the businesses of all interested stakeholders. It cannot be an entity with any other objectives or conflicting priorities.
Therefore, it can't be done by an operating systems company because it must be neutrally cross-platform. It can't be done by an ISP because it must be neutral to all access providers. It can't be done by e-mail marketing companies or database solution providers. And if we have any sense of urgency, it can't be done by the government or a task force of a hundred industry players.
Goodmail Systems has only one objective: to restore trust in e-mail by creating an efficient, egalitarian and economically driven transport mechanism for e-mail.