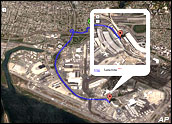 Discovery Communications will be adding clips of its video to Google Earth so users can view the footage while surveying national and global sites on the Internet.
The streaming video will accompany Google's 3D, satellite mapping solution and will feature major world attractions such as natural wonders and historic sites.
The deal confirms the speculated advertising opportunities of Google Earth, and also represents part of Discovery's foray into broadband Internet distribution of its video content.
"It's a really good example of the type of experiments we're going to see in this space," JupiterResearch Vice President Michael Gartenberg told TechNewsWorld.
Family Trip Clips
Discovery and Google said the service, available by clicking on Discovery's globe icon displayed with Google Earth results, will initially offer two or four-minute videos on 10 U.S. National Parks, including Mount Rushmore and Yellowstone.
Almost 50 updates and additions — to include historic sites, animals and adventure video — will be added in the coming months, and will also feature Discovery specials, such as "Discovery Atlas," the companies said.
"Google Earth users worldwide can now access enriching and educational videos that capture the breadth and detail of popular destinations and national landmarks," said Google Maps Director John Hanke. "Discovery's video content complements the immersive experience of Google Earth and aligns well with our company mission to deliver the world's information directly to users."
Mimicking the Maps
The Discovery-Google deal is yet another example of premium content holders and Internet destinations joining up to bring users enhanced offerings, Jupiter's Gartenberg said.
He said there has always been an expectation that Google Earth was ripe for advertising, and the same is expected from Google rivals.
"We'll see the likes of this not only from Google, but from Yahoo and MSN as well," he said.
Good for Google?
Although the move may provide Google Earth users an enhanced experience, it is unclear how the search leader gains from linking to Discovery's site and video, Basex CEO and Chief Analyst Jonathan Spira told TechNewsWorld.
Although he called it an interesting use of content, Spira also indicated the deal largely amounts to Web link exchange.
"It's a convenient package, but not necessarily novel," he said.
Internet Discovery
Discovery also announced the launch of its first broadband Internet channels, ad-supported services that will be supported by Internet TV service Brightcove later this month.
Discovery's programming from TLC, Animal Planet and Discovery Health Channel will launch in mid-April and will include original and exclusive short programs, the company said.
"Discovery is seizing the opportunity to enrich the multi-platform media experiences of people who love and rely on our content and channels," Discovery Vice President for Strategy and Development Don Baer said.