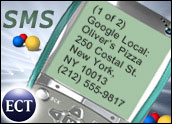 Search superstar Google rolled out a new short message service (SMS) thisweek, delivering its search and other Internet data to mobile phones ofseveral major vendors through text messaging.
The Mountain View, California-based company indicated it will be testing a beta version ofthe free service in the U.S., where text messaging has beenmuch slower to catch on than in Europe and Asia.
Analysts indicated that the service is Google's attempt to maintain leadership in Internet searching while also securing a place in the mobile device world.
"I think what Google is doing with the service is beating others to thepunch," said Radicati Group analyst Teney Takahashi. He told TechNewsWorld thatthe service is useful, speedy and valuable. "It will see uptake," he said.
Just Text
Google said its new SMS, available immediately to beta testers, will enableusers of mobile phones or other handhelds such as the BlackBerry to sendtext message queries to get phone book listings, dictionary definitions,prices and other information.
"Just text," said a Google description. "No links. No Web pages. Simplythe answers you're looking to find."
Google said by dialing 46645 (GOOGL) on a text-enabled phone, users couldquickly find restaurant listings, zip codes or other data. Google said textmessage results will be delivered "usually within a minute."
The company also indicated that it will add new features to the freeservice soon, allowing users to get updates via email on the latest GoogleSMS developments.
Mobile Measure
Takahashi said Google is using the new service as a stopgap measure whilethe mobile phone market advances to third-generation or "3G" phones withbetter text message capabilities.
Although most phones are now ill-suited for Web browsing, Google'ssimpler service should allow the search company to establish a real presencein mobile devices, according to Takahashi.
Google said its service — which may include carrier charges that aretypical with text messaging — should work with any messaging-enabled phoneand will be available with all major providers in the country, includingAT&T, Cingular, Nextel, Sprint PCS, T-Mobile and Verizon.
Content Still Key
Gartner's Phil Redman told TechNewsWorld that Googlewas ahead of most wireless operators, which have not yet provided the proper content or applications for information integration on mobile handsets.
Redman added, however, that Google's search success may not mean much inthe mobile world. "It doesn't matter how good the search engine is if it still doesn't workwell with small devices," he said.
Still, Redman said Google appeared to be taking SMS in the rightdirection for it to be useful on mobile phones and other devices.
"The challenge is what kind of content is it going to find and is itfeasible on a mobile device," Redman said.
The analyst added that the U.S. text messaging market remains achallenge, particularly when the "non-kid" audience isconsidered. "A lot of adults here in the U.S. are still resistant," Redman said,referring to the difficulty of typing and viewing messages on mobile phones.