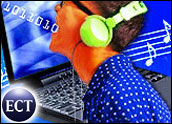 In a bizarre twist to the file-sharing fight in which the Recording Industry Association of America is using copyright law to pursue file traders, search engine Google pulled links to sites hawking unofficial Kazaa alternatives after the popular file-swapping service made its own copyright-infringement claims.
The RIAA has used the Digital Millennium Copyright Act as the basis for more than 1,000 subpoenas served to ISPs in an effort to identify and possibly litigate against users of peer-to-peer (P2P) applications and networks such as Kazaa. In its own effort to quash imitators that allow online file-trading without pop-up ads or other intrusive components, Kazaa informed Google of 15 sites to be removed from search results to avoid copyright infringement in a letter last month.
In response, Google removed the links as requested, resulting in fewer results and a statement at the tail end of the search listings for Kazaa: "In response to a complaint we received under the Digital Millennium Copyright Act, we have removed 14 results from this page," the statement said. "If you wish, you may read the DMCA complaint for these removed results."
Turning Legal Tables
Users of Kazaa, a file-sharing application that allows the upload and download of various music, movies and other digital files via the Internet, typically have been the subject of copyright infringement claims, primarily from the RIAA.
However, the file-trading application's parent company, Sharman Networks, turned the DMCA and copyright law to its advantage by putting Google on notice regarding the allegedly infringing search result links.
"Please immediately remove or disable all access to the infringing material," said a letter from Sharman Networks to Google.
File-Trading Copies
Yankee Group senior analyst Mike Goodman told TechNewsWorld that imitations of popular file-trading services, such as Limewire or Morpheus, are common, particularly when the original programs feature pop-up ads or spyware, software that tracks user purchases or preferences.
Among the knockoffs of Kazaa, which, according to Goodman, has "a huge load of spyware," is Kazaa Lite, an unauthorized version of the P2P software that does not include the pop-up ads.
Goodman, who said Kazaa Lite came from users who stripped software from the original application, indicated that the imitations are almost technically identical. Last month, Kazaa parent company Sharman Networks released an updated version of the software that does not include advertisements. The new software is known as Kazaa Plus and, instead of being supported by advertising banners within the application, costs US$29.95.
Goodman said Kazaa Plus is simply a version that has been stripped down by Kazaa, rather than by users.
P2P Evolves
GartnerG2 research director Mike McGuire told TechNewsWorld that the P2P knockoffs are serving a niche of users who like P2P networks but do not want to suffer the downside, which includes virus vulnerability and adware.
"In terms of tapping into market interest, that certainly is the next step," McGuire said. "Do the unfriendly edges of a download client become an increasing concern — I think so."
McGuire also said the Kazaa copyright claims are part of the P2P application owner's effort to transition to a legitimate, copyright-okay service, which likely will compete with other legitimate file-sharing efforts, such as Apple's iTunes.
Legit To Switch
Goodman said that although Kazaa's copyright claims represent a somewhat bizarre turn, file-trading application owners view themselves as legitimate and are not afraid to employ the same legal tactics that any company would.
"Any time you have a file-trading network using copyright law to their advantage is a little bit of a switch," he said. "On the other hand, these networks don't see themselves as any different from Xerox because they're not the ones breaking copyright law."
They are merely a means to break copyright law, Goodman said. "They are the distributed network, and the consumers are using that tool illegally; [the networks] are not doing it."