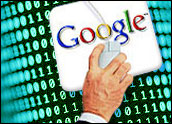 The U.S. government once again heads the list of those requesting data from Google, and lately it's been asking for a lot more.
Google's Transparency Report, a twice-a-year reminder of how often governments ask for information, says that the U.S. submitted 10,918 requests for 21,683 user accounts during the first half of 2013. U.S. requests had the highest rate of compliance, with Google forking over user information more than 80 percent of the time.
The total number of U.S. requests has more than doubled since 2009, when Google first started tracking such statistics.
With between 2,000 and 3,000 requests apiece, India, Germany and France rounded out the top four.
Smartphones Dial Down Sex Drive, Doctor Says
A doctor at Taiwan's Kaohsiung Medical Chung-Ho Memorial Hospital claims that smartphone games, when consumed in excess, can cause erectile dysfunction.
The doctor — whose surname, no joke, is Wang — says that there has been an increase in the number of men with ED in recent years, including those whose age should, in theory, protect them from the problem.
The culprit, Wang claims, is the libido-eroding power of smartphones.
This is not the first time smartphones have been linked to health problems. Over the summer, South Korean doctors linked smartphones to the early onset of dementia.
[Source:WantChinaTimes via The Register]
Finland Staking Claim to Games Capital
Mobile gaming has become a "flagship export industry" in Finland, according to the Associated Press.
That's not mere hyperbole: Mobile gaming revenue is expected to reach US$2.7 billion this year. The Scandinavian nation has already produced global hits such as Angry Birds and Clash of Clans.
Finland's claim to tech fame has long been linked to Nokia, the mobile phone giant. However, the company's mobile phone division was recently sold to Microsoft, leaving a void that gaming could fill.
Mobile games are still small potatoes compared to Nokia, which at its peak had annual revenue of about $40 billion. That said, some 2,200 people are employed in Finland's 180-or-so gaming companies.
In a related story, GungHo Online Entertainment, the mobile gaming branch of Japan's SoftBank Corp., is reportedly mulling relocating its headquarters to Finland.
SoftBank is apparently enticed by Finland's low corporate tax rates — they will drop from 24.5 percent to 20 percent next year — and its aforementioned gaming scene.
Last month, SoftBank paid $1.5 billion for control of Supercell Oy, the Finnish outfit responsible for games such as Clash of Clans and Hay Day.
[Sources:The Associated Press;The Wall Street Journal]
Lenovo Claims Third in Chinese Smartphone Pecking Order
Chinese PC maker Lenovo has moved into third place in China's hypercompetitive smartphone market.
Now, things are still dominated by Apple and Samsung, but Lenovo, buoyed by an 84.5 percent jump in shipments from a year earlier, now has a 5.1 percent share of the market, compared to 4.1 percent last year.
[Source:The Wall Street Journal viaThe Sinocism Newsletter]
Europe Relaxes In-Flight Electronics Rules
The European Aviation Safety Agency has published less-stringent guidelines pertaining to the use of electronics during flights. The new rules will allow for the use of devices during takeoff and landing, heretofore no-nos in Europe.
The U.S. published similar rules last month.
The new rules aren't a total green light. Passengers will still be required to stay in "airplane mode," precluding the use of both voice and text services.
[Source:BBC]