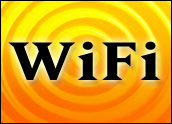 With Verizon's recent announcement that it intends to drop its grandfathered unlimited wireless data plan for existing customers who were around before tiered its pricing came into being, crackdowns are in the air.
Both T-Mobile and Sprint continue to offer unlimited data plans, although T-Mobile slows data transmission after a point.
If you've tried to stream media on a laptop with a limited-plan 3G connection, you'll know that it's possible to use up your entire month's data allowance within the first few hours, with carriers either curtailing streaming at that point, or limiting you to Web browsing only.
Unreliability and network congestion are, prevalent with the proliferation of devices causing jams at peak times in congested areas.
Its may sound hard to believe in the era of always-on iPads and upcoming super-fast LTE networks, but good old-fashioned WiFi hotspots may be the way to go if you're hungry for chunky slabs of data at a reasonable price — or even free.
Step 1
Visit your local coffee shop. Starbucks and others provide free WiFi to add value to their services. For marketing purposes, they also like you to use social networks while in their stores. Restaurants Panera Bread and McDonald's are major players in this field too.
Finding
Open your connection manager or similarly named interface on your computer or device, refresh, and look for obvious proper nouns like "McDonald's" on the list of connections. These network names are called "SSIDs."
Be aware that many coffee shop-type WiFi hotspots are operated by carriers. Look for "Attwifi" or "Tmobile."
Overseas, look for hotspots that are operated by obvious telcos like "swisscom," and so on.
Ask the coffee shop for the network name if you have trouble identifying it.
Connecting
Connect to the hotspot and then open a browser. The branded Web page will appear instead of your normal home page through a technique called a "redirect," and you will likely be asked to check a box agreeing to various conditions.
You may find a slew of options on the page — paid and coffee shop-sponsored connections. Look for dropdowns or options on the page that provide the free Internet you're looking for.
Telco hotspots can serve a dual purpose, providing Internet access for paid subscribers, so don't enter any payment details unless you're sure there aren't any free options.
Tip: Look for future loyalty program tie-ins. Options are coming up where the more you use a retailer, the more Internet it gives you.
Step 2
Subscribe to a paid WiFi hotspot provider service like Boingo. Boingo is active in the U.S.
Jwire is a mobile advertising solutions provider that also provides a 500,000 free and paid hotspot list called "WiFi Finder." It covers 144 countries and is available in app form for Android and iOS devices in the Google Play and iTunes App Store respectively.
OpenWiFiSpots.com provides a user-contributed directory of 65,729 U.S. free hotspots. Some other countries are also covered.
Step 3
Check with your home ISP (Internet Service Provider) which, keen to get into the mobile Internet business, is opening "metro" hotspot locations in cities to try to capture some of the jammed market that the telcos own.
Time Warner Cable provides hotspot service for its customers, called "TWCWiFi." You'll need proof of subscription, and you may want to set it up using the company's website before you go out, as it will be less fiddly.
Look for Bright House Networks, Cablevision, Comcast, Cox Communications and Time Warner Cable to start sharing their "metro" hotspots under the roaming SSID "CableWiFi," providing 50,000 hotspots country-wide over the next few months.
Step 4
Purchase a device bundled with WiFi service. Devicescape provides software and other tools to manufacturers for connecting devices automatically to one of 8 million hotspots. Intel's Ultrabook laptops will be equipped with this technology down the road.
Phone retailers like Phones4U in the UK have been offering bundled WiFi with phone purchases. Look for these kinds of deals.
Want to Ask a Tech Question?
Is there a piece of tech you'd like to know how to operate properly? Is there a gadget that's got you confounded? Please send your tech questions to me, and I'll try to answer as many as possible in this column.
And use the Talkback feature below to add your comments!