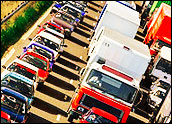 A newly launched global position system (GPS) service allows its users to access real-time traffic data — generated by the customers — in cities around the country.
The GPS service, run by Sunnyvale, Calif.-based Dash Navigation, helps drivers find directions; however, the Internet-based service constantly updates driving directions based on information gathered from other area drivers. The database-driven system offers alternate routes if traffic has slowed, according to information culled from other devices.
Road Tested
The Dash Express service grew out of a five-year plan, which included a 2,000 person test in 25 cities to research how data from moving cars could be exchanged with a database and what type of information would be relevant for drivers.
While the company will eventually rely on user-generated information for its live maps, the Dash Express system isn't initially relying solely on customer-generated data, since it will take a critical mass of people to generate accurate, real-time maps. They have contracted with third-party companies and compiled historical data to ensure that early adopters will have near up-to-date information.
"At Dash, our design center is the commuter and our mission is to have a device that consumers use and rely on every day," wrote Dash CEO Paul Lego in his blog. "Our goal is to give consumers all of the information that they need about their commutes and their destinations, in real-time, and in a way that is simple to comprehend while driving."
Emerging Markets
As GPS devices become more commonplace in consumer electronics devices, there are scores of new geo-location services being developed, Lauren Coats, an analyst with the Boston-based Yankee Group, told TechNewsWorld.
Some of the earliest services have been developed by gaming companies. The Sony PSP, a handheld gaming device, enables players to find — and play — with friends who are nearby. However, music and other entertainment-enabled devices are beginning to explore new users for the location technologies, including location-based software games.
Digital camera manufacturers are looking to add geo-location information to pictures, enabling people to easily map their photographs. Where enables people to locate a variety of businesses — from ATMs to restaurants — using a mobile software application.
"Lots of apps companies have created a platform that allows users to create real-time widgets that rely on location get richer data," said Coats. "As it stands now, GPS has improved the lives of its user base. But there is still more to be done to move beyond 1.0, (including the) inclusion of social networking."
The Crowdsourcing Problem
While Dash doesn't exactly add social networking to the mix, the company is trying to aggregate information from its own network. The fastest growing GPS services, though, aren't trying to aggregate data from large systems, said Coats, which makes the Dash Express a risky venture. The real-time traffic data is only as good as the information provided by large numbers of people, which the company doesn't yet have.
The Dash is an outstanding concept, Coats said. "But it's like a fax machine, only good as its installed base of users. We'll see how the market embraces this product, but it screams 'you first, then me.'"