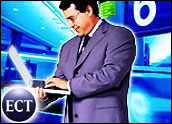 Traditional advertising business models may not sustain the news business as companies — and independent bloggers — seek out niche markets, found a study conducted by the Project for Excellence in Journalism.
The State of the News Media study focused on seven areas: restructuring content, emerging business models, traditional advertising models, public ownership of media, developing online-specific content, blogging and ethics in a digital age.
Many Sources, Few Voices
The group found that while there are more outlets than ever before — fueled by the growth of personal media — topic areas such as foreign policy, politics and elections dominate most coverage. Issues such as transportation, education, religion and development — hallmarks of localized journalism — made up less than 3 percent of the stories nationwide.
The result of this upheaval, according to the report, is that news organizations need to reconsider every aspect of the business to compete financially in a digital world.
"Journalism is becoming a smaller part of people's information mix," according to the report. "The press is no longer the gatekeeper over what the public knows."
Syndication Services
As the news world continues to fragment, news companies and syndicated services are trying to stake out a place in the new world. There won't be one business model, according to the report; instead, there will be a series of stops and starts for news corporations trying to deliver content in new ways.
The Associated Press now derives much of its revenues from international broadcasting and photography rights, as well as syndication deals with services such as Yahoo.
There are even syndication services for syndication services. Mochila, for instance, aggregates content from Reuters, AP and MSNBC.com to a variety of small and independent sites. The company targets mid-tiered Web sites — those with approximately 100,000 unique users — and delivers ad-supported content through widgets, small applications that can be embedded within a Web site.
Mochila, the Web site and the content creator then split the ad revenues.
Old Model on the Outs
"Our widgets are mini-publishing platforms that allow publishers to customize look and feel," said Keith McAllister, CEO of New York-based Mochila. "You can customize articles, photos, video, the sources and we monetize it with advertising. We sell direct and we allow publishers to sell around that as well."
These new models are beginning to attract the attention of large news organizations, McAllister told TechNewsWorld, as companies scramble to attract the ever-growing, but continually fragmenting, audience. These days, Mochila boasts some of the biggest names from the world of print and photography.
"The realization that these large companies have come to is that on the Internet, we're all playing by the same rules," said McAllister. "The ones who are getting competitive are the ones who have realized that."