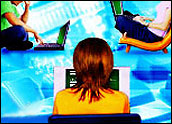 Don't mess with mobile social networks.
That was lesson from day three of this year'sSouth by Southwest Interactive Conference and Festival (SXSWi), which is a week-long confab of music, film and interactive conference.
During the session with 23-year-old Facebook founder Mark Zuckerberg, technology journalist Sarah Lacy was besieged by angry attendees who were upset with the direction — and style — of the much publicized keynote conversation. Back-channel conversations driven by the mobile messaging application Twitter — which allows users to send messages out to defined buddy lists — turned the keynote conversation into an audience-driven revolt.
Uneasy With Interviews
Zuckerberg is known for his short answers and general unease with the press. Lacy, who is finishing a book on Web 2.0 companies, was hand-picked by the company's public relations team to help.
However, her conversational interviewing style along with her propensity to inject her own views while cutting off Zuckerberg angered many in attendance. Within minutes, the audience was sending Twitter messages in rapid-fire manner, few of them kind.
Nearly 24 hours later, the disastrous interview is still big news on blogs and mobile messaging systems.
Lacy didn't help her cause by interspersing odd tales of the time they had spent together while she was working on her book — which she awkwardly plugged, including one particularly embarrassing story about his much-ballyhooed nervousness with the press.
To be sure, there were some interesting tidbits: The company operates at a break-even level while it builds out the platform; it isn't relying on banner ads because there are new advertising models evolving; and there are no plans to take the company public.
Interruptions and Awkwardness
However, Lacy's interruptions became more pronounced. At one point, she usurped Zuckerberg's announcement that the company had just launched a property in France.
By the midway point, the crowd had grown vocally hostile, empowered by the ad-hoc Twitter network that had formed. Even Zuckerberg appeared rattled. He mocked a question about his propensity to use longhand journals for notes and he chastised Lacy for making a long statement instead of asking a question.
His last comment hit squarely with the audience, which erupted into a 30-second roaring applause. Lacy then chastised the audience, telling them they didn't understand how difficult it is to conduct an interview, which led to a brief back-and-forth with audience members.
The Twitter conversations continued into the evening with Lacy herself interjecting her last word on the subject. "Seriously screw all you guys," Lacy Twittered after the conversation ended. "I did my best to ask a range of things."
---
Brad King
is a member of the advisory board for SXSW.
---