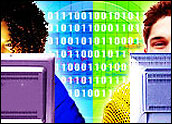 The South by Southwest Interactive Conference and Festival (SWSXi) kicked off last weekend as roughly 9,000 Web designers, Web developers, academics, bloggers and social media participants gathered for the five-day event.
The 15-year-old conference features scores of panelists throughout the day, the Screen Burn gaming center, keynote addresses from luminaries involved in new media projects as well as two awards programs for innovations in technology and social media.
Steven Johnson Converses With Henry Jenkins
Steven Johnson, author of Everything Bad Is Good for You, and Henry Jenkins, director of the MIT Comparative Media Studies Program, kicked off the keynote session on Saturday with a sprawling conversation about popular culture, technology and kids.
Jenkins, whose research and writing focuses on the benefits of technology, began with a deconstruction of modern education, which has a "teacher as expert" model. Jenkins' contention is that social media and emerging technologies make it impossible for any one person to know everything about every subject.
Instead, social media have created ad-hoc, need-to-know groups that find knowledge when it's needed.
These groups, he said, have largely manifested themselves outside the education and business structures, which create a weird striation between what we can do and what we actually do.
Something Missing
"What is wrong with America when these particularly bright, intelligent people aren't given the ability to express themselves at their jobs?" Jenkins said, discussing the need to integrate social media technologies and these ad-hoc learning networks into all sections of American life.
Eventually, the conversation turned to play, one of Jenkins' main themes. He argued that because schools teach in a directed, one-to-many manner and business doesn't encourage these ad-hoc collective networks, many of the skills being acquired today are picked up while playing.
"In a hunting society, children play with bows and arrows," Jenkins said. "In an information society, children play with information."
Blogs, Buzz and Buddy Lists
Tracking the influence of social media is bit of a magic act. There are no metrics available right now that can accurately deconstruct how social networks and online groups translate into actual sales offline.
The overarching message from the panelists — and the crowd — was that creating good content that you are passionate about is the best way to build an audience. Then, there is still no substitute for face-to-face marketing, letting people know who you are and what you do. Technology has lowered the barrier to entry when it comes to creating and distributing content, but it hasn't solved the problem of audience development.
The second major point was that transparency is the key to successfully navigating the social media sphere. The rules for what can and should be done are still being written, but readers expect that whatever decisions are being made are done in way that is public and immediate.
Gossip and News
The rise of social media and the read/write Web, where readers expect to be contributors as well, has blurred the lines between traditional news coverage and gossip that flies through the blogosphere.
The panel's opening remarks demonstrated just how far the gap is between social media and newspapers, as a reporter from The New York Times asked how Twitter could be used to deliver news more efficiently than a newspaper. The answer: It depends upon the news. For breaking events, social mobile networks offer a more immediate, on-the-ground feel for what is happening.
The panel took an odd turn, however, when Star gossip reporter Julia Allison forced herself on the panel to complain that while she covered celebrities, she didn't believe that her personal life should be covered. Owen Thomas, the editor of the Silicon Valley gossip Web site Valleywag.com, countered that his organization was covering the personal news of the digerati. Allison, who has been linked to several high-profile technologists, turned the panel into a diatribe about social media.
Her main contention: Just because she writes and participates in the social media sphere doesn't give people the right to comment back about her, a point that mirrored the initial question about how mobile networks deliver news and information. Eventually, the panel discussed the line between news and gossip. The result: As news organizations increasingly ask their reporters to give some larger contextual meaning to their stories, traditional news is tilting dangerously toward the gossip style of writing.