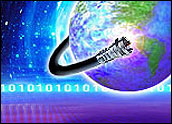 U.S. residents not only are accessing the Internet via high-speed broadband connections more than previously presumed, but also are moving from dial-up access to mostly DSL or cable broadband more quickly than ever as they put performance at the top of their priority list, according to the latest Pew Internet and American Life Project report.
The report found that 55 percent of all adult Internet users — the equivalent of 34 percent of all adult Americans, or 68 million people — have access to high-speed connections either at home or at work.
It also indicated that both work and home users are realizing the time value of broadband, putting speed and performance ahead of price and helping home adoption to boom, with a 60 percent increase in the number of home users accessing the Internet via high-speed connections compared with a year ago.
"People do more things online the longer they have been Internet users, and the additional waiting sours them on dial-up," said John Horrigan, Pew senior research specialist and author of the report. "Paying more for broadband thus has big efficiency payoffs for many dial-up users. The extra monthly cost is well worth it for high-speed home users, and this is why they tell us price is not a big factor in their move to broadband."
Time Is Money
Horrigan told TechNewsWorld that connection speed was rated the most important factor by a 10:1 ratio over price by respondents for the report.
"As they spend more time online, it becomes more costly and aggravating to deal with the slow dial-up connections," he said. "It's very surprising to see the role that simple desire to have a fast connection plays."
The researcher explained that while broadband may cost more — although the price gap is narrowing as DSL drives down the cost of overall high-speed access — the time expended on a slower connection allows broadband to make up the difference.
"It's an equal value in terms of cost per minute," Horrigan said.
Greater Expectations
Horrigan added that the latest report — the first from Pew to consider the total universe of home and work broadband use — indicates high-speed Internet access is "much greater than widely presumed."
While Horrigan credited broadband's mainstream acceptance on the part of both corporations and consumers with driving the desire for speed, Meta Group senior analyst David Willis told TechNewsWorld that expectations associated with broadband speed and quality have moved higher along with the increase in the number of people using the technology.
"It is so much of a better experience. People are so much more productive [that] it makes sense," Willis said.
Jumping Faster
Horrigan also reported that a surge in the number of DSL high-speed connections, which has more than doubled since last year, is driving home broadband adoption. DSL now has a 42 percent share of the home broadband market, up from 28 percent in March 2003. Willis said there has been significant growth for DSL, but he added that cable broadband access "continues to march on."
Horrigan also found evidence that Internet newcomers are moving from dial-up to broadband more rapidly than before.
"It's likely a case of networking effect," he said. "Given more people using broadband and having these communications, it's likely users know people who have broadband and are hearing the praises."
Willis said the faster embrace of high-speed connectivity is also being driven by an infectious desire to take broadband access wherever people go.
"The conventional wisdom is, once you experience broadband, you don't want to go back to dial-up," Willis said. "Now, it's everywhere I go — the home, coffee shop or hotel — it's becoming more expected in every location where you may want to be connected."