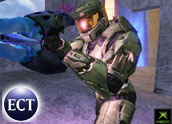 Gamers have made "Halo 3" the biggest launch in entertainment history by scooping up enough units to bring in an estimated US$170 million in its first 24 hours on store shelves, Microsoft announced Thursday.
Moving that amount of product puts the Xbox 360 title ahead of smash hit movie releases and blockbuster book launches, such as "Spider-Man 3" and Harry Potter and the Deathly Hallows.
Besides overjoyed retailers, Microsoft Xbox Live and Microsoft Game Studios are beneficiaries of the game's mega success. GameStop, a leading video game retailer, expects "Halo 3" and its related products "to be the biggest video game title generator" in the store's history.
"'Halo 3' has become a pop-culture phenomenon," said Shane Kim, corporate vice president of Microsoft Game Studios. "Not only is 'Halo 3' setting sales records, it's also redefining entertainment. Within the first 20 hours alone, we've seen more than a million Xbox Live members worldwide come online to play 'Halo 3.' That makes Sept. 25 the most active Xbox Live gaming day in history."
The game became available Tuesday, with more than 10,000 retail locations in the U.S. hosting "Midnight Madness" events to celebrate its launch. The release was not confined to the U.S. — "Halo 3" is available in 37 countries and 17 languages.
Midas Touch
The success of the third installment of the best-selling first-person shooter, exclusive to Microsoft's Xbox line of gaming consoles, comes as no surprise. Gamers rushed to put their copy of "Halo 3" on hold for the launch with more than 1.7 million preorders. That made it the fastest selling game in history, surpassing presales for "Halo 2."
"Microsoft knew exactly what it had on its hands," said Yankee Group analyst Mike Goodman.
"That's one of the beauty's of preorders. You can plan for demand. You can plan supply. You know you have to ship X-million units, because you've already sold them," he told TechNewsWorld.
"I'm not at all surprised by the strong sales," echoed Michael Cai, a Parks Associates analyst.
"Reviews have been very positive in general," Cai told TechNewsWorld. "One publication called 'Halo 3' the reason for the Xbox 360's existence."
It's hotly anticipated predecessor, "Halo 2" racked up 1.5 million preorders just three weeks before it's November 2004 launch. The game went on to earn blockbuster status, breaking entertainment industry records during its first 24 hours of availability. Gamers in the U.S. and Canada snapped up 2.4 million copies, bringing in $125 million.
"Halo 2" ranks among the top five best-selling games for first day sales in history. As of mid-May 2007, it was the most-played game on Microsoft's Xbox Live online gaming network, with fans logging just under 1 billion hours of online game play.
The franchise's original title "Halo: Combat Evolved," which debuted in November 2001, was also a blockbuster. It sold 1 million units in its first four months on store shelves. The game has produced estimated revenues of some $170 million.
"'Halo 2' pulled $125 million on the first day and 'Halo 3's' unit price is 20 percent higher — $60 versus $50 for 'Halo 2.'" If we take out the price factor, 'Halo 3' only sold about 13 percent more in unit sales for the first 24 hours," Cai calculated.
The regular and limited editions of the highly anticipated final chapter in the Master Chief's saga rank first and second, respectively, on the Amazon.com Web site, with "Halo 3 Legendary Edition," priced at $129.99, coming in fourth.
Good for the Long Haul
In addition to the 1.7 million preorders, roughly 1.3 million units of "Halo 3" were sold on the release date, putting total initial sales around 3 million.
"That's pretty darn good," he said. "In one day, selling 2.5 million to 3 million units is something to be pretty pleased about."
Now, the question is what kind of legs this last installment will have, Goodman muses.
"Is 'Halo 3' a six-, seven- or eight-million seller? Is this up in the realm of 'Madden NFL?' Microsoft has done an excellent job at marketing and really turned [the release] into an event," he continued. "There are very few software titles that come out and are an event."
Using "Madden NFL" as the gold standard of what a video game can achieve in sales, Microsoft could have a six- to eight-million unit seller over time, he speculated — a category occupied by a very small number of games.
If history is any indication, sales for "Halo 3" will continue — though not at such a brisk pace — during the holiday season and will fall off a bit thereafter, Cai predicted. However, it will very likely generate significant revenues for Microsoft.
"I think the first 24 hours will account for about 30 percent of the total sales, which means 'Halo 3' may pull in more than $500 million total," he said. "In terms of the pattern, there will be a dip and then a strong holiday season, followed by another dip."
Bad News for the PS3
The only thing holding back sales of "Halo 3" is that Microsoft's Xbox 360 does not have a large enough installed base at this point to sell an additional 5 million or so copies, according to Goodman. Stats that Microsoft released this summer indicate that there are some 11.6 million Xbox 360s in living rooms around the world.
"We'll get fresh numbers after the holidays," Goodman noted, "but I wouldn't be surprised if it's 14 or 15 million, and even as high as 16 million. Microsoft is certainly counting on 'Halo 3' as being a significant driver of console sales."
Sales figures for the next few weeks will show an uptick in the number of Xbox 360 consoles sold, he predicted.
"'Halo 3′ will help Microsoft sell more Xbox 360s — no question about it," agreed Parks Associates' Cai.
There are three things that sell consoles: price point, size of the game library and, most importantly, exclusive titles, noted Goodman.
"Sony's [console] is the most expensive product out there, and only recently did they start to expand their library so they had a decent number of titles to choose from," he pointed out, "but they still lack a breakout hit. Sony has never been known for producing breakaway hits, and those are the things that sell hardware. And through holiday 2007, I haven't seen a must-have title from Sony."
Although many lump Nintendo's Wii, the Xbox 360 and Sony's PlayStation 3 together, observed Cai, the PS3 will be more impacted by the boost in Xbox 360 sales than will the Wii, because the Nintendo console is targeted at a different demographic.
"People who are looking for a Wii and still cannot find one won't go out and buy an Xbox 360 instead because of 'Halo 3,'" he maintained.