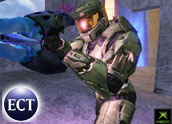 More than 1 million gamers have plunked down their US$60 to preorder one of the most anticipated video games this year, "Halo 3," Microsoft announced Thursday. With a little more than one month to go before the game's release Sept. 25 on the Xbox 360, the latest installment in the "Halo" franchise has become the fastest-selling pre-ordered video game in history, the console maker said.
"What we've experienced is nothing short of phenomenal," said Bob McKenzie, senior vice president of merchandising at GameStop. "'Halo 3' has eclipsed many previous records and will prove to be one of the must-have items of 2007."
In addition, as though the impending arrival of "Halo 3" had not received enough attention in the gaming universe, Microsoft also has unveiled a marketing campaign more reminiscent of a major movie premiere than a video game release. The company has inked deals with a bevy of mainstream retailers, such as Burger King and 7-Eleven to help boost the game's profile even further.
"This September, 'Halo 3' will push video game entertainment into the forefront of mainstream culture," said Chris Di Cesare, director of creative marketing at Microsoft. "Teaming up with some of the world's strongest and most recognizable brands is trailblazing new paths and cementing video games as big entertainment on par with major even films, and is a testament to the excitement and anticipation intrinsically linked to 'Halo 3.'"
The 'Halo' Effect
Admittedly, "Halo 3" has big shoes to fill when it comes to sales. Its predecessor, "Halo 2," reached the 1.5 million pre-orders mark just three weeks before its November 2004 launch. The game went on to break entertainment records in its the first 24 hours with gamers in the U.S. and Canada picking up 2.4 million copies bringing in US$125 million. That put the game among the top five best-selling games for first day sales in history.
In the three years since it hit store shelves, as of mid-May 2007, it remained the most-played game on Microsoft's Xbox Live online gaming network, with just under 1 billion hours of online gameplay logged in by fans.
The franchise's original title, "Halo: Combat Evolved," released in November 2001, was another blockbuster that sold 1 million units in its first four months on store shelves. The game has produced estimated revenues of $170 million.
"'Halo 3' has a pretty strong franchise," Rob Enderle, principal analyst at the Enderle Group, told TechNewsWorld. "'Halo' was the title that drove purchases for the original Xbox."
Predictor of Future Success?
One million games already sold is a significant number, Enderle explained. "Windows 95 had that kind of pre-order number, but few products have actually been able to hit that level.
"When you get a million orders before it actually releases you have an impressive [game]."
The question, Enderle said, is whether disappointing reviews of the beta version Microsoft released earlier this year with depress sales.
"The beta of 'Halo 3' wasn't that well received. It was a limited beta, however, and the final product is supposed to be quite a bit better. I was in the beta and we were playing just a very small component of the game."
Although the beta was fun to play, Enderle noted that the advancements did not seem to be that dramatic. For the extremely large existing "Halo" base, what "Halo 3" appears to bring (based on the beta) is a little extra variety and a few extra enhancements.
"Sometimes that's good enough to move the base. But, if you want to have it bring more people to the Xbox, which is the challenge for any major game like this, at least in the beta it didn't seem to have that cache. If you weren't already a 'Halo' fanatic, 'Halo 3' wasn't likely to bring you over."
The final version, Enderle added, and the parts gamers have not seen are supposed to be pretty phenomenal, however.
While it remains to be seen if the game can help drag the Xbox 360 out of its recent sales slump, currently the console reigns supreme on Amazon.com, the world's largest e-retailer. The $350 model is ranked No. 1 on its video game top-sellers list with pre-orders of "Halo 3" coming in at No. 2.