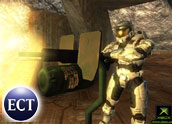 For the makers and fans of the blockbuster games "Halo" and "Halo 2," Tuesday will be almost like Christmas Eve. "Halo 3" is set to go live with its public beta Wednesday.
For two years, gamers have been counting the days until they could get a glimpse of the game in action.
Their wish was granted Friday when Microsoft and game developer Bungie Studios held invitation-only previews, further wetting the appetites of the "Halo" faithful for the beta release.
Saving Grace
With the release of the original "Halo," Microsoft was able to carve out a chunk of the gaming console market for the original Xbox back in 2001 and establish the upstart console as a legitimate competitor to Sony's PlayStation line, among others. The widely honored game sold roughly six copies every minute each day during the first six months of its release, according to Microsoft. By 2004, just before the release of "Halo 2," the game had sold more than 5 million copies and ranked as one of the top ten titles at retailer Toys "R" Us three years after its release.
If "Halo" was a hit, "Halo 2" was a smash. Sales totaled US$125 million within the first 24 hours of its release.
Just last week, on the game's two and a half year anniversary, Bungie Studios announced that "Halo 2" had logged on its 5 millionth player, based on the number of unique Xbox Live accounts that have played the game online.
Another Mega Hit?
It's somewhat unusual to see a beta release for a console game. Microsoft is simply trying to ramp up the buzz surrounding the game before its fall release, Michael Pachter, an analyst at WedBush Morgan, told TechNewsWorld.
"The public beta generates buzz," he said. "It's cheap to administer, reaches their core and keeps people excited."
Available to those who have bought the game "Crackdown" as well as a select group of "Halo" enthusiasts, the multi-player beta will give testers a small sampling of what game makers have in store for them. The beta includes three maps, each of which provides a distinct experience for gamers in terms of the terrain and structures, as well as available vehicles and equipment.
Functionality from the "Halo 2" has been given a boost as well, with "Spartans" now able to pick up equipment on the battlefield and deploy it with the "X" button. The Grav Lift, for example, can give players a lift over a high wall, but players can also drop it in front of an oncoming vehicle and send it flying, according to Microsoft.
The game also includes an array of new weapons, and players also now have the option to "Party Up": After a match, if a player would like to team up with current team members, they can vote to "Party Up" If everyone gives a thumbs up, the new party can head out on adventures in future games. Gamers can also save a film of the entire game by pressing the "X" button when the game ends, in order to check out a replay and see what went right and what did not work.
"'Halo 3' will likely sell 5 million in its first month or so, and another 3 million over the next year," Pachter predicted. "That's pretty big.
"It's their big game — they won't screw it up and variability of demand will be minimal," he added. "It's going to be good, period, and will sell well."