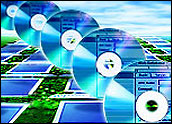 Developments at the Consumer Electronics Show (CES) in Las Vegas this week suggested that the ongoing battle between the competing Blu-ray and HD-DVD next-generation, high-definition DVD formats could become a long, unproductive war.
Microsoft Chairman Bill Gates upped the ante, declaring in his keynote address that theXbox 360 game console will feature functionality with HD-DVD — the format backed by Toshiba, which demonstrated an HD-DVD disc player of its own at the show today.
Sony's competing Blu-ray format has benefited from delays in HD-DVD's delivery up to this point, but it appears that both camps — which include content, technology and consumer electronics giants in their ranks — may lose in a repeat of the Beta-VHS videocassette face-off that occurred more than two decades ago.
"We've got a format war on our hands, and the longer it goes on, the more likely physical media becomes irrelevant," Gartner analyst Van Baker told TechNewsWorld. Digital distribution could be the big winner in the end, he predicted.
Positioned for Battle
Nevertheless, Sony, Toshiba and their friends and enemies have all positioned themselves for a fight, hoping the format they've chosen is the one that will win among consumers. Neither side is showing any signs of backing down, noted Jupiter Research vice president Michael Gartenberg.
"I think one thing that is clear is that no one is giving any ground to anyone," he told TechNewsWorld.
The pricing structure for high-definition DVD players is emerging for the first time at CES, Gartenberg said, with Toshiba announcing an HD-DVD player price of about US$500. Blu-ray players are expected to cost around $1,000.
A player that supports both formats is highly unlikely, in his view, given that such a device would be essentially two drives, which would boost the cost for consumers to a prohibitively high level.
Price of the Fight
The battle is "ever-changing," with each format appearing to have the edge at different times, Gartenberg noted. This inconclusiveness could hurt both sides.
"Consumers are not going to show up if they feel they won't be able to buy with confidence," he said.
Alternative emerging storage technologies, such as holographic memory, are unlikely to close the HD-DVD-vs.-Blu-ray rift anytime soon, according to Gartenberg. The current lack of a center of gravity for high-def DVDs will create an atmosphere of fear, uncertainty and doubt, or "FUD," he pointed out.
Forgetting Formats
Eventually, the discs used to store movies, pictures, music and other high-definition multimedia will disappear as consumers increasingly turn to digital methods of distribution, predicted Gartner's Baker.
"What's going to happen," he said, "is physical media will become irrelevant. It becomes video-on-demand, or the Internet, and nobody will care [about formats]."
Additionally, the expected price points for HD-DVD and Blu-ray players seem very high, Baker said.
On the other hand, Internet providers must find a way to ensure that digital delivery will not degrade quality — which could be a significant challenge — in order for it to become a viable option for the masses, he acknowledged.