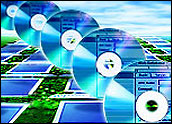 Toshiba, the main backer of a next-generation DVD disc format known as HD-DVD, has signaled it will not ship its players based on the technology before the end of the year, leading some analysts to doubt the format's ability to compete with the Sony-backed Blu-ray format.
Furthermore, although some have noted that the two formats both have unique technical merits, it appears Blu-ray may have the more critical backing of both content owners and device manufacturers, as signaled by the loss of some studio support for HD-DVD recently, Gartner research vice president Van Baker told TechNewsWorld.
"As far as the format war, for all intents and purposes, it's over," Baker said. "Blu-ray's going to win," he stated, highlighting the format's inclusion in the Sony PlayStation 3, backing among consumer electronics manufacturers and increasing movie studio support.
Heightening Tensions
Until recently, there had been hope that the opposing DVD format camps — both bolstered by technology and content companies — would unify their standards to avoid the kind of market confusion that occurred with the Beta-VHS format fight, which resulted in sunken sales and rentals of both kinds of tapes.
However, recent reports and activity — including a skirmish over anti-piracy protection and technical superiority — indicate that neither side is backing down. Despite the almost certain negative impact on the market, both sides seem to be willing to take their chances.
"I think we're going to have a protracted format war," Baker said.
Real Damage
As for the news from Toshiba that the HD-DVD format would not be making it to market as soon as expected, Baker said the impact would be minimal, suggesting that the "real damage" to the HD-DVD format came with the pullback of support from Hollywood studios, half of which were previously squarely behind HD-DVD.
Still, Baker did refer to the HD-DVD delay as another blow to the format, since the time-to-market was among its remaining advantages.
"That was their big advantage — to be first out of the chute," he said, adding that it is nonetheless no surprise that HD-DVD proponents are scaling back their plans after the studios did the same.
A Two-Format Future?
Baker added that the result of a divided market would be that "nobody buys anything." Consumers may even turn to other technologies, he said. Still, the next-gen DVD — which will provide more storage and high-definition capability regardless of format — in general is likely to emerge as the standard for video, according to the analyst.
Jupiter research vice president Michael Gartenberg told TechNewsWorld the last thing consumers want to see this holiday season is competition among different DVD formats.
While they will ultimately determine which format emerges as the standard, Gartenberg said all indications are that consumers will first endure a format war.
"It really looks like it's going to be two different formats at this point," he said. "As much as everyone wants consistency, it's just not happening."