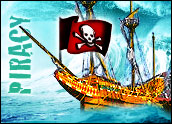 U.S. Immigration and Customs Enforcement (ICE) agents raided more than 30 businesses, storefronts and homes in 16 states Wednesday as part of an investigation into the alleged sale and distribution of modified chips and other devices that enable gamers to circumvent copyright protections and play pirated software on their Wii, PlayStation and Xbox consoles.
"Illicit devices like the ones targeted today are created with one purpose in mind — subverting copyright protections," said Julie L. Myers, assistant secretary of the Department of Homeland Security's Immigration and Customs Enforcement division. "These crimes cost legitimate businesses billions of dollars annually, and facilitate multiple other layers of criminality such as smuggling, software piracy and money laundering."
The raids were the result of a 12-month investigation codenamed "Operation Tangled Web," which was the largest national enforcement action to target game software piracy committed by online retailers, the ICE said.
Criminal Modding
Modding, or modifying a game console, has increased in popularity over the last decade. In its most benign form, it entails modders using a store bought kit to personalize the outside of their Xbox or PlayStation console.
However, some modders install chips in their system to play illegally copied and counterfeit games on the PlayStation 2, Nintendo Wii, Xbox and Xbox 360 consoles.
Modification chips and circumvention devices such as swap discs, the ICE said, violate laws under the Digital Millennium Copyright ACT (DMCA). The chips and devices cost the gaming industry billions of dollars worldwide each year in lost sales, according to the Entertainment Software Association (ESA), the trade organization representing U.S. computer and video game publishers.
"Plain and simple, selling and distributing products to illegally bypass game consoles' piracy protection is a crime with real-life consequences," said Michael Gallagher, president of the ESA.
"This is not a game; we're talking jail time. Enforcement initiatives of this scope send a clear message to both the public and pirate community that this illegal activity will not be tolerated," he warned.
"As an industry, we protect our intellectual property, encourage our government to crack down on those who break the law, and urge other governments to take similar action against video game pirates," Gallagher continued. "Yearly worldwide piracy costs total over (US)$3 billion, and it impinges on businesses and employees who create, develop and distribute innovative products."
A Deleterious Effect
Law enforcement should go after the producers of the pirated material and the people who provide the technology that enables gamers to play pirated software, Rob Enderle, principal analyst at the Enderle Group, told TechNewsWorld.
"It looks like they are going after businesses and criminal organization as opposed to kids, and that's the appropriate approach," he explained. "On the game consoles, you have to approach this from both ends [and get] both the folks who are making the illegal copies of the software — which are often located overseas and are very hard to get to — and the people that are in-country and producing the pirated parts and doing the system mods."
Pirated games have a big impact on an industry that brought in $7.4 billion from sales of entertainment software in 2006, Enderle said. The gaming industry is a razor blade industry — meaning it makes money through game sales and not, for the most part, from its game consoles.
"It's [a big problem]. Because the software carries a fairly high margin, with most games at $50 or $60 bucks, that makes pirating very, very lucrative," he pointed out.