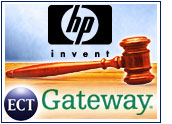 After failing to reach an agreement to renew technology licensing deals, computing giant Hewlett-Packard has filed suit against Gateway in U.S. District Court in San Diego, near Gateway's Poway headquarters.
HP is claiming that Gateway, which recently acquired budget PC maker eMachines, is infringing on several HP patents related to personal computers. The patents reportedly cover password and image design technologies, among others, that were previously licensed to Gateway. However, the agreement between the two companies did not extend to the eMachines acquisition, and Gateway now is allegedly violating HP's intellectual-property rights, according to the suit.
Analysts indicated there may be more, similar suits based on HP's patents as the Palo Alto, California-based company carries out its strategy to seek revenue from them. However, analysts also agreed that the dispute between the two PC titans likely will be settled quietly outside of the courtroom.
"What'll happen is there will be some legal toing and froing while HP and Gateway sort out how to figure this one out," Gartner research vice president Martin Reynolds told TechNewsWorld. "It'll be very quiet as well. Chances are they'll complete it without a word getting out."
Subtle and Sudden
Bob Mayes, an attorney working on the case for HP, told TechNewsWorld that the six patents involved cover a range of PC technology: two for notebook architecture; graphics management for cursor; power management; port-covering hinges; and password security.
Mayes said HP's intellectual-property protection group announced earlier this year it was working "to identify opportunities and assist people with licensing," but he added that the company would rather stay out of court.
"With licensing, it's unfortunate," Mayes said. "We do not like to lead with litigation."
Gateway defended itself in a statement, saying: "The fact is, both companies are in possession of significant patent rights in the area of computer technology. It's premature for them not to take this into consideration before proceeding with a lawsuit. We intend to vigorously defend ourselves from these claims."
Sudden Flare-Up
While he questioned what Gateway might be able to offer HP in a settlement, IDC vice president Roger Kay said the two parties probably will reach some sort of cross-licensing agreement.
Kay added that HP's suit, which seeks damages plus penalties for Gateway's alleged infringement, came with little warning to the industry. He indicated the licensing suit could have been filed previously, but HP waited until Gateway's eMachines deal was complete.
"These things tend to flare up rather suddenly," Kay told TechNewsWorld. "They're lying there all along but haven't been attended to."
For his part, Reynolds said it appears Gateway and HP already were struggling to renew license deals when the eMachines licenses lapsed and then were canceled by HP.
PC Production Okay
Reynolds added that although the patents involved in the dispute do not cover "anything earth-shattering" in terms of technologies, there must have been some value in them because Gateway had been paying to use them.
Still, he noted, Gateway likely can work around the patents, if needed, and continue producing PCs.
Kay, who pointed out there has been no injunction placed on Gateway, said the patents involved in the dispute appear to be quite broad in some cases, including one for a 1-inch notebook. However, the analyst indicated, the patent and HP's claims are probably more specific.
Pushing Intellectual Property
Kay, who called HP's patent protection and revenue strategy "a prudent investment," said the computing giant is likely to selectively seek out additional companies that may be infringing on its patents.
"The company's trying to drive more value from its patent portfolio, so it'll be examining its relationships," he said.
Reynolds agreed that HP likely will target other companies, particularly smaller ones, as it seeks to grow its intellectual-property revenue.
"They'll probably look at other manufacturers — smaller ones around the world," he said. "With the investment [in IP], they have to enforce."