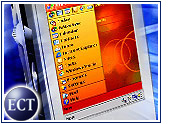 Arming its low-end handheld iPaq with a more efficient processor, expansion slot for Web connectivity and lower price point, Hewlett-Packard's update of the PDA reflects an industry-wide trend of adding features to handhelds while dropping prices to compete.
HP said it will phase out the predecessors of the revamped iPaq h1935, which is now available for US$199 and includes a SecureDigital expansion slot for memory and wireless cards or digital cameras.
IDC analyst Alex Slawsby told TechNewsWorld that the latest iPaq, weighing 4.37 ounces, is HP's answer to lower-priced entries into the PDA market. "This is HP's realization or execution on the fact that it had to get to $199," he said. "It's pretty clear the battleground is going to be around $199."
Dell Dives Price
Slawsby said the lower-price trend in PDAs is largely a result of Dell's entry into the PDA market, which occurred last year. "Dell's arrival to the PDA industry brought a new level of aggressiveness in the market," he noted.
The analyst said now that HP has matched Dell's low price, HP's design will win out in terms of form factor. He added that it is now up to Dell to refresh its lineup.
Sized at 4.46 inches long, 2.75 inches wide and a half-inch thick, the h1935 offers one SecureDigital expansion slot for extra storage and wireless or wired Internet cards. Slawsby said that although they will continue to be sold, PDAs that cannot connect to the Internet are losing out to mobile phones, which are becoming the primary device for people who do not want to carry both a mobile phone and a PDA.
"We expect that increased features on mobile phones will probably increase pressure on PDAs," Slawsby said. "Mobile phones are the form factor that is most compelling."
More for Less?
Despite its lower price point — which includes a $50 mail-in rebate — the iPaq h1935 incorporates a more efficient Samsung 203 MHz processor, 64 MB of synchronous SDRAM and a transflective TFT liquid crystal display that can produce 64,000 colors.
The device also ships with mobile-printing software and a removable, rechargeable lithium-ion battery that provides up to eight hours of use on a single charge.
Slawsby said that to get to the lower price point, HP was forced to remove some features and functionality in the iPaq. The iPaq now uses volatile memory instead of flash memory. The difference now is that the device — much like a laptop — can lose data if users aren't careful to keep their batteries charged.
"There are things that have to be removed to get them down to such low price points," Slawsby said.
Caught in the Middle
Slawsby said that efforts to add telephony to PDAs in converged devices are not likely to make such handhelds the choice of business travelers and consumers.
Yankee Group analyst John Jackson told TechNewsWorld that PDAs are also losing out to laptops, which can be wirelessly connected to the Internet with increasingly cheaper wireless cards.
"These are devices that are already installed," Jackson said. "They have permeated the install base of the mobile professional."