Here's a smartphone designed for charm. The HTC Rhyme for Verizon actually has a charm designed to dangle outside a purse. It lights up to tell the owner when there's a call. The phone appears to target teenage girls — that is, except for the price point of US$199.99 with a two-year contract. Perhaps a tad pricey for the very young. It comes with three accessories: a dock, headphones and the charm.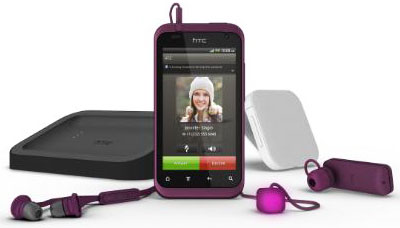 HTC Rhyme
While Verizon's Droid was positioned as macho — remember, the ads called the iPhone "prissy" — here's an Android-based phone clearly designed for women. HTC is promoting the phone for its style.
The Rhyme runs Android Gingerbread on a 1 Ghz single-core processor. It has a 3.7-inch WVGA touchscreen and a 5-megapixel camera. The Rhyme also has a revamped version of HTC's Sense, which consists of a clean home-screen, custom wallpapers and enhancements to the camera app. The Rhyme will be available globally with Verizon as its exclusive U.S. carrier. It launches September 29.
Broad Market?
While the Rhyme seems tailored for females, Verizon insists it has appeal for a larger market.
"The target audience is fairly broad," Verizon Wireless spokesperson Brenda Raney told TechNewsWorld. "It is intuitive, sleek and comes out of box with a host of accessories that make the experience easy and quick."
The phone does make a clear style statement, Raney conceded.
"Certainly, a fashion-forward person will love the look and feel of the device," she said. "And of course, those who are Android fans will love the phone because it ships with the latest Android operating system."
Pretty Is as Pretty Does?
While smartphones typically compete on internal technology features, here's a launch that emphasizes the phone's outward appearance.
"This is HTC's attempt to diversify the all-look-the-same Android portfolio by further segmenting it," Neil Shah, analyst for wireless devices strategies at Strategy Analytics, told TechNewsWorld.
"Even if HTC fails to generate demand for this product, at least it will help boost HTC's mind- and brand-share in the U.S. market in terms of offering a broader and comprehensive portfolio."
Women are an important target, noted Shah, so it makes sense for HTC to make a foray into the market with a female-centric color and aesthetics, not to mention accessories and innovative packaging.
"This can be a good ploy in a crowded and undifferentiated market," he said. "As Android rises on its popularity curve, such gender-targeted devices could help increase Android's penetration into the female segment. This can help Android compete with the Apple iPhone's slimmer design."
Given a wide selection of phones on the market with the same general performance capabilities, the look of the phone could tip the buying decision.
"If choices are made available for consumers during the purchasing process, such as differentiated, gender-centric design bundled with accessories, it would certainly be a welcome option," noted Shah. "This is especially true for the consumers who are conscious of what device they carry, whether it looks unique, and how it blends in with their personality."
Tweens Love Charms
While HTC and Verizon claim the Rhyme was designed for a broad market, it may resonate more with young girls.
"This actually seems like it's targeted toward tweens," Laura DiDio, principal analyst at ITIC, told TechNewsWorld.
"A lot of the 15-year-olds and up may not think this is that cool. The 10-to-14 age girls will petition Mommy and Daddy to 'Buy it for me, buy it for me, buy it for me!'"
The Rhyme could actually become a fad, suggested DiDio.
"It's a marketing tactic. If you're in marketing or advertising and you have a smartphone client, you have to be wracking your brains to come up with new ways to differentiate your product and market," she said. "It's crowded and competitive out there. Given that, this idea doesn't sound bad. Plus, look at the timing. It's mid-September. They're gearing up for the holidays."