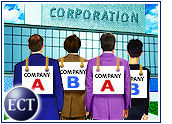 Adding to its arsenal to launch an offensive in the growing market for enterprise content-management software, IBM announced another acquisition this week, this time of document-management specialist Green Pasture.
Terms of the deal were not disclosed, but the move represents IBM's third content-management acquisition since 2002. The other two acquisitions were Tarian's records-management software in November 2002 and Aptrix's Web content-management software last July.
Big Blue is making no secret of its plans to pursue the fast-growing enterprise content-management market, which is generating much interest as a result of the growth of unstructured data — audio, video and multimedia — as well as government regulations on handling and storing data.
"This kind of software is in large demand in government, finance, pharmaceutical and regulated industries that have massive amounts of information and have requirements on managing that data," IBM spokesperson Lori Bosio told TechNewsWorld. "Enterprise content management is expected to be as big as the database market; by 2007, it's expected to exceed US$9 billion," she added, citing research from Meta Group.
Pastures Beyond Paper
Corvallis, Oregon-based Green Pasture provides document-management software for real-time management capabilities, include the ability to collaborate and edit multiple documents at the same time.
The software, which eases development and management of documents with interrelated components — such as spreadsheets and multimedia files — will be moved into IBM's data-management software division and will be available immediately from the company.
"What they're helping us do is to enable customers to more easily manage complex documents," Bosio said, referring to documents such as financial reports and multimedia presentations.
Needed Doc Help
Forrester vice president Connie Moore said IBM is responding to the growing need for management of increasingly complex documents and data.
Moore — who said the term "enterprise content management" can encompass several disparate technologies, such as document imaging, management and collaboration — told TechNewsWorld that IBM needed to reinforce its offerings in advanced document management.
"IBM's content management does some basic document management, but the real focus is on document imaging," she said.
Heavy-Duty Documents
IBM and Green Pasture said the software can be used to automate and streamline document management across multiple business operations, including development, financial reporting and compliance with government requirements.
The companies said organizations can create and manage complex documents, such as product manuals, annual reports and pharmaceutical submissions for clinical trials, with the software.
"The combination of Green Pasture technology and IBM's content-management offerings will enable businesses to create and manage their critical information assets to increase productivity and enhance business insight," said Green Pasture president Charlie Wittenberg.
Regulatory Reasons
IBM spokesperson Lesia Figueira told TechNewsWorld that the enterprise content management market has been particularly hot recently.
"It used to be just insurance," Figueira said. "Now we're seeing more industries, like financial services and media, with a real need for it."
Figueira said the main driver of the momentum has been government-imposed requirements on the handling of data, such as the Sarbanes-Oxley Act.
"The software is in especially high demand in organizations such as government, financial services, pharmaceutical and chemical and petroleum and other regulated industries that manage massive amounts of information which require long-term data retention," said an IBM statement.