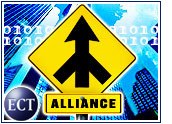 In an effort to fuse the variety of different diagnostic mechanisms used in today's increasingly complex network infrastructures, IBM and Cisco have announced a partnership to develop open software and standards to "help the network help itself."
As a show of commitment to open standards — consistent with Big Blue's push for "autonomic computing," also known as "self-healing" — the two companies said they are integrating the technologies into their software, servers and services.
"IT professionals from medium and large businesses have told us that 25 to 50 percent of their IT resource is spent on problem determination," said Alan Ganek, IBM vice president of autonomic computing.
"Given the pressures on budgets, time and skills, our work on standards-based technologies for problem determination will make it faster and easier to improve availability and reduce downtime in their IT infrastructure."
Breaking the Logjam
IBM spokesperson Michael Loughran told TechNewsWorld that IBM and Cisco had been collaborating on the technologies for about a year to address the complexity of problem determination in today's computer networks, which can include different logging mechanisms for software, servers, hardware and other components of a network.
"Essentially, across the infrastructure you have different logging mechanisms that are vendor-centric and log errors differently, making it time-consuming and expensive," Loughran said. "IBM and Cisco developed new technologies and are proposing to make these types of abilities standard across the industry."
Loughran said IBM is already in the process of integrating the technologies and capabilities, some of which were included in the latest version of WebSphere Studio, across its entire product portfolio. All IBM software, storage and server hardware products will be integrated within a year, he added.
Self-Healing Network
IBM and Cisco, which is expected to integrate the autonomic technologies into its products and services in the second phase of the initiative, said the system and network enhancements will help enable a "self-healing enterprise infrastructure."
Yankee Group vice president Zeus Kerravala told TechNewsWorld that although there is tremendous interest in and demand for the kind of self-healing, on-demand networks that IBM and Cisco are talking about, there are currently no examples of large-scale deployment.
Kerravala said the technology announced by IBM and Cisco will become increasingly important as companies move to real-time computing and as more people, including partners and vendors, begin using distributed-computing networks. However, the analyst said the "holy grail" of a truly scalable and adaptable network is still as many as seven to eight years away.
Integration and Automation
"How to price it, how to build it, how to migrate to it — these are all still issues, so I think we're in the very early stages of it," Kerravala said.
Fusion of different logging strategies has been the goal of several organizations, and although IT administrators today are better informed about which applications are down, figuring out the cause of such problems has become more important, according to Kerravala.
"It's always been a goal to put in root-cause algorithms," he said. "The thing is, they haven't been very good. What [the IBM and Cisco initiative] will do is automate that, which is good because integration and automation are among the most important parts of network management."