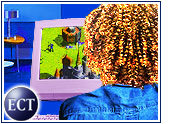 IBM hopes to hit it big with its new Business Integration Game (BIG) technology, which is a software system designed to throw third-party e-commerce and communication into the latest online role-playing and multiplayer video games.
The BIG framework, which uses open standards such as SOAP and J2EE, lets game developers use standard Web services to build support for payment, shopping, trading and messaging capabilities directly into game environments, IBM said.
The software, which aims to bolster the online gaming industry by helping developers generate profit more easily in addition to helping developers create secure virtual storefronts within their virtual worlds, was made available for free this week through Big Blue's AlphaWorks site for emerging technology.
"For the first time, players are dynamically linked to a whole host of on-demand Web services within the network of the game," IBM said in a statement.
BIG Business
IBM is not simply playing games with this new technology. The technology — which will initially be applied by developers in the gaming world — could represent a significant opportunity for the growing online game industry to move beyond its traditional boundaries.
While the technology will give gaming companies the ability to build automated billing systems into their environments — to charge players for their online time — other applications of the technology could include virtual environments in which users would buy and sell items through 3D storefronts.
IBM Global Digital Media executive Patty Fry told TechNewsWorld that the online game industry is forecast to grow to more than US$5 billion in 2008 with more than 23 million consumers worldwide playing games online.
Still, the industry is currently in its infancy and presents several business integration challenges for developers, service providers and players, IBM senior software engineer Chris Sharp said.
Challenge of Games
IBM said its middleware technology — called such because it stands between two or more separate software applications — is aimed at driving new and sustainable business models and revenue streams by enabling developers to "mix and match" service providers and customers over the Internet.
Fry said game developers and publishers are currently attempting to "do it all themselves" by building tools and managing the complex systems required for games.
"As the market grows and becomes more sophisticated, it might be better use of their time and know-how to use off-the-shelf components and tools to help speed time to market," Fry said.
Layers and Logic
IBM said the BIG framework, which provides a specialized application interface that developers can bind to their games to access IBM WebSphere transaction products, consists of three layers.
The first is a service-oriented architecture designed to help service providers make gaming functions available via the Internet. The second layer is the console, PC or mobile device that can help access the network and the third layer is where "process brokers" form a backbone of servers that link everything together.
IBM said the business logic that embodies the code for e-commerce transactions in virtual environments is isolated from the game, enabling the BIG middleware to act as a simple service layer between the game environment and financial process brokers. The company pointed to the potential for the software to offer significant cost-savings because the software's business logic could be upgraded and extended without touching game code.
E-Commerce Action
IBM said its BIG technology would not only help the game industry improve time to market in rolling out new products, but also would be able to scale up as needed, securely supporting customers and expanding the market beyond hard-core players.
"IBM has the tools, products, services and expertise today to meet the intense computational requirements of an online games environment," Fry said.
IBM said the BIG framework could be used in other industry applications, including accounting or productivity programs that charge on a per-use basis, despite lack of infrastructure to support it.
Fry stressed IBM's focus is on "the provision of developer and infrastructure solutions to the industry, not to compete with the industry players."