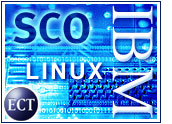 Despite SCO's claims that IBM is using SCO source code in its Linux products, Big Blue is offering Linux for free to customers who are using its pSeries servers.
The giveaway of a free license for SuSE Linux Enterprise Server 8, limited to one per customer, might just be a marketing ploy, but it might also represent a show of confidence in the face of SCO's claims on Linux, Aberdeen Group research director Bill Claybrook told TechNewsWorld.
"Maybe they're trying to show externally they're not worried," Claybrook said. "But everybody already knows that. I think [the giveaway] is just marketing. It's just an effort to get attention and say, 'We're still here, and Linux is still important.'"
Big Blue Bottles Up
Lindon, Utah-based SCO sued IBM nearly five months ago, claiming that Unix source code from SCO had been improperly incorporated into Linux. SCO has since contacted about 1,500 commercial users of Linux, urging them to purchase licenses to avoid potential copyright infringement lawsuits.
However, IBM has remained largely quiet on the issue, releasing only a single statement in June that said IBM's Unix license is "irrevocable, perpetual and fully paid up" and blasting SCO for "an apparent attempt to create fear, uncertainty and doubt among IBM's customers and the open source community."
"They won't even talk about it," Claybrook said of IBM. "They've been given orders not to talk to anyone about it."
Lame Licensing Plan
Claybrook said some IBM customers might be concerned about potential liability associated with using Linux — particularly versions 2.4.x and later, which are covered under SCO's claims — but for the most part, there is little fear.
"They're just waiting and seeing," he said, adding that the SCO-IBM legal fight might not be resolved for two years or longer. "They believe IBM will come out of this and they won't be hurt in the meantime."
Calling SCO's attempts to sell licenses to Linux users "nonsense," Claybrook questioned why any company should buy such a license before even determining whether it is really required.
Empty Assurances
Yankee Group senior analyst Laura DiDio, however, said SCO is taking a small but significant step in its suit against IBM and its claims on Linux by securing U.S. copyright registrations this week.
"Will it affect the lawsuit? Probably not, but appearances are everything," DiDio told TechNewsWorld. "SCO is framing the picture and putting it in focus."
She cautioned customers contacted by SCO against dismissing its claims or the potential for legal liability from using Linux. At the same time, she called it problematic that IBM has not done more to state whether or not it will indemnify its customers.
"That is not acceptable," DiDio said. "Certainly, SCO is saying, 'We're not going away; We're taking the necessary steps to enforce [copyrights].'"
For his part, Claybrook said IBM probably is talking to customers behind the scenes to assure them that they have no liability in their use of Linux-based IBM products.
"I'm sure they're telling customers it's their problem, not the customers' problem," Claybrook said. "They're saying they'll stand behind anything [the customers] purchased."
No Linux Losses
Recent figures from British researcher Netcraft indicate that SCO's licensing scheme, taking shape in a new business division at the Unix software seller, has not deterred continued deployment of Linux in the enterprise IT shop.
"It may well be that although SCO has generated an enormous amount of attention from the media and the Linux evangelists, it does not presently have the attention of IT practitioners in large companies," Netcraft said in a statement.
Netcraft credited three elements for the Linux operating system's penetration into the IT departments of more than 100 major corporations in the past two months: A successful conclusion to SCO's lawsuit is extremely unlikely; the costs of migrating from Linux to FreeBSD at a later date are small; and companies are committed to migration strategies and do not intend to change course.