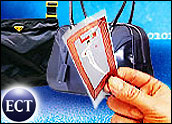 Hoping to hook manufacturers and shippers beholden to modest radio frequency identification (RFID) implementation requirements from companies like Wal-Mart, IBM has announced new service and software offerings to help roll out the wireless tag-tracking technology.
Wal-Mart is putting manufacturers under the gun to implement RFID for cases and pallets by sticking to its deadline of January 2005, AMR Research senior analyst Kara Romanow told TechNewsWorld. Romanow said Wal-Mart's requirements call for its top 100 suppliers to implement RFID by 2005 and for all other suppliers to do the same by 2006.
RFID technology is forecast to be a US$3 billion market within five years as it begins replacing bar codes. The wireless chip and scanner technology represents a huge change for companies that embrace it. "To track exactly where something is in the supply chain all the way to store shelves — that kind of information is revolutionary, and it's more substantial than anything you can think of," Romanow said.
Clock Ticking
Analysts agree that manufacturers are likely to perform the bare minimum RFID implementations to meet Wal-Mart's requirements and then assess a larger deployment of the technology.
"Time is so short," Romanow said. "You're asking very large companies to turn on a dime, and it's a revolutionary change; it's not going to happen in a year."
Yankee Group analyst Adam Zawel told TechNewsWorld that Wal-Mart competitors are likely to reinforce the call for RFID, speeding its adoption by large companies.
"It does set in motion a change in the industry that could happen pretty quickly," Zawel said, adding that use of RFID with legacy systems, which might not be compatible with wireless technology, also may trigger larger shifts in architecture and network design.
IBM's Play
RFID technology is being rolled out by chipmakers such as Texas Instruments and Phillips, while other large players, such as Intel, are taking a wait-and-see approach. For its part, IBM said it will offer consulting and implementation services along with specialized software to help phase in RFID.
The IBM offering, based on open standards, links to retailers' existing back-end inventory systems using WebSphere Business Integration software running on WebSphere Application Server, DB2 Information Integrator, Tivoli Access Manager or WebSphere Portal Server.
IBM RFID spokesperson Jan Walbridge told TechNewsWorld that the IBM software is essentially a middleware package that sits on top of supply-chain software, such as SAP.
Vision Blurred
Romanow said that despite the overall advantages, the current vision of the future of RFID is often based on fallacies: that the cost of tags will be less than a nickel, that the accuracy of RFID reading is 99 percent and that RFID will be used at the item level.
Romanow said RFID tags are actually priced at between 12 and 25 cents per tag. Reliability rates are currently less than 80 percent, and there is also a lack of standards across tag types, tag readers and retailer implementations.
Zawel noted that despite the time pressures from Wal-Mart, price and lack of standards are blocking a big return on investment from RFID. "The big ROI is something that's going to evolve over time as RFID gives companies visibility into the entire supply chain process," he said.
Open Phase-in
IBM, which announced the RFID service at the Electronic Product Code Symposium in Chicago, outlined three phases for its RFID rollout plan: consulting and business-case development; a 12-week pilot program; and a full implementation of the RFID system by IBM.
Big Blue's Walbridge stressed the open-standards aspect of the offering and said that companies working with partners, in addition to suppliers, will require openness in RFID technology. "It's really important that there's not a lot of translation going on," she said. "It's going to have to be open to make this work."
Yankee's Zawel said RFID must be phased in and likely will work with bar codes, despite the downsides of duplication and inefficiencies.
"It's the only way to go about it," he said. "You can't just get the entire economy to just throw out bar codes all of a sudden. There's going to have to be interplay."