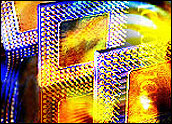 A state-of-the-art IBM manufacturing plant located in East Fishkill, N.Y., has become the first facility to produce the 65 nanometer (nm) Cell Broadband Engine, the chip maker announced Monday. The Cell chip, developed through a US$400 million partnership between IBM, Toshiba and Sony, is the technology underpinning Sony's recently released next-generation video game console, PlayStation 3 (PS3).
IBM invested more than $2.5 billion to build what it calls "the world's most technologically advanced chip manufacturing facility." The chip will provide breakthrough performance for consumer electronics, medical imaging, design engineering and other graphics-intensive applications, according to IBM.
Less Power, Less Money
The technology incorporated inside a Cell chip is a major departure from typical processor designs found in the average PC or even the PS3's predecessor, the PlayStation 2. Those devices operate using a single processor to perform the calculations necessary for a computer to run properly. Although Intel and AMD have begun producing duo- and quad-core processors, the Cell processor uses a multi-core architecture combined with ultra high-speed communications capabilities that provide greatly improved, real-time response for entertainment and rich media applications, IBM said.
The Cell chip uses one dual-threaded PowerPC core and eight "synergistic" processors. Its top clock speed is greater than 4 GHz, making it capable of massive floating point processing.
At around $90, 90nm Cell processors such as the kind found in PS3s were generally considered far too expensive. That high cost is seen as one reason for the PS3's $599 price tag.
The new 65nm processor is smaller and uses less power than its predecessor. That translates into a lower price.
Necessary Steps
"This is something we knew they were going to do and they have to do it," Gartner research fellow Martin Reynolds told TechNewsWorld.
By going to 65nm, several things happen, Reynolds said. First, the chip becomes cheaper, and therefore more chips can be produced. That, he explained, is really important should the chip be implemented in the production of Sony's PS3. "Lower production costs mean more units [and] means more people can buy games."
In addition, the 65nm process will result in a cooler chip that consumes less power and will be more reliable, another potential bonus for the PS3. "That's also important for something sitting in someone's living room," Reynolds added.
While IBM is marketing a Blade server built around the Cell processor, Reynolds does not expect to see the chip in a standard PC because of the difficulty associated with combining the Cell technology and other chips.
"It has eight processors inside the chip and they are different than the other processors in the system," Reynolds said. "So, [the computer] has to understand two languages to make it work. It works well for a lot of gaming stuff, but for a typical corporate IT department it is not such an easy thing to use."
The Golden Key
For IBM, the key is the Cell's inclusion in the PS3, Reynolds noted. That would give IBM a guaranteed market for millions of these chips each quarter, thus supplying IBM with the capital necessary to continue developing the chip and creating uses for new applications.
"So that market will fuel the development of more Cell chips. So it is paid for and IBM can continue developing the technology for other applications," he pointed out.
Martin expects IBM to take the Cell down to 45nm and reduce the price even further. The hundreds of millions of dollars in revenue the company will receive from consumer uses will enable IBM to develop more advanced versions of the processor.
"They've got the money to continue developing the technology," Reynolds concluded. "And that could help it spark in the business world."