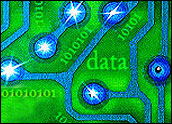 A sense of deja vu is sweeping through IBM's executive offices. Hardware, a category of computer technology that has been commoditized over the past several years because of falling prices, once again has become sexy — so sexy, in fact, that it has become the linchpin in IBM's quest to maintain its position as one of the industry's most important vendors.
The hardware model at the center of IBM's technology strategy is called grid computing, a high-end architectural strategy of making multiple computers work on the same computational problem simultaneously.
"IBM plans to make all of its key software products as well as its hardware compatible with grid computing," Gordon Haff, a senior analyst at market research firm Illuminata, told TechNewsWorld.
IBM's Distributed Terascale facility, for example, is a grid-computing project designed to allow researchers to perform 13.6 trillion calculations per second, making the series of connected computers 1,000 times faster than IBM's chess-playing Deep Blue machine.
Problem Fragment
To date, however, grid-computing technology has appealed only to select clients — those supporting complex academic, engineering, government or scientific applications. IBM plans to push grid computing into the corporate mainstream by having it serve as the company's computing foundation to make computers simpler to manage, easier to operate and less costly.
IBM is aggressively moving toward the grid-computing model because the multiprocessing architecture typically used in high-end servers often runs into bottlenecks when doing massively complex processing tasks. Grid computing solves that problem by enabling a large number of disparate computing resources to work on different portions of a large, complex problem.
IBM's grid-computing initiative is so comprehensive that its success or failure might determine whether or not the company will remain a major player in the industry.
Dawning of a New Age
IBM is not the only company pushing toward grid computing. All major computer vendors — with few exceptions — have announced grid-computing initiatives. Hewlett-Packard, for example, is using grid computing in its Superdome systems, and Sun Microsystems has been developing what it calls the One Grid engine.
However, no computer vendor has tackled the problem of pushing grid computing into the mainstream more than IBM has. "While HP and Sun are dabbling with grid computing, IBM has made grid computing a top priority and clearly wants to emerge as the market leader," Mary Johnston Turner, research director at Summit Strategies, told TechNewsWorld.
At the unveiling of its grid architecture in January, IBM paraded out 10 grid-computing products. In July, the company made its WebSphere application development environment compliant with its grid technology, and it seems like only a matter of time before other products, such as the company's Tivoli management suite and DB2 database system, also support grid computing.
Long-Term Strategy
The company's long-term vision entails massive rollouts of grid-computing products. Customers purchasing grid-enabled products, in the company's view, would be better able to manage their data repositories.
"The focal point with grid is on cost savings and helping firms cut their IT budgets through the use of more integrated hardware and software," Bill Claybrook, a research director at Aberdeen Group, told TechNewsWorld.
In fact, if IBM's strategy proceeds as planned, IBM might be able to use grid computing to gain competitive advantage. "When you look at the corporate data center, IBM is the only company that has all of the necessary pieces to provide central control," Johnston Turner told TechNewsWorld.
However, for IBM to succeed, the company must clear several hurdles. The initiative is a hardware play, and hardware revenue has been flat recently. Despite a dwindling number of suppliers, servers remain an intensely competitive market, with manufacturers consistently dropping prices so customers continually receive more processing power at a lower cost.
Also, with the Internet boom a distant memory, there are even questions about the need for more computing power. It is unclear which applications will drive the move to grid computing.
Future Alliances
IBM has targeted five industries: aerospace, automotive, financial services, government and life sciences. For example, IBM recently installed a grid-computing system at Charles Schwab that reduced the processing time on a wealth-management application from more than 4 minutes to 15 seconds.
However, the number of general-purpose applications that now require — or are optimized for — grid computing is still quite small. "Even in commercial environments, the grid applications IBM points to tend to be specialized and separate from the rest of a firm's data center," Illuminata's Haff told TechNewsWorld.
Whenever IBM promotes a new piece of hardware or software, there are usually concerns about it being based on proprietary technology. There is a hint of that with IBM's grid-computing movement. To squeeze out the maximum processing power from IBM's grid-computing initiative, a company would have to purchase IBM hardware and software.
To combat this impression, IBM has been working with other suppliers to promote the grid model and to facilitate proliferation of grid-enabled technology. This year alone, Big Blue has entered into alliances with five key middleware vendors: Avaki, Entropia, DataSynapse, Platform Computing and United Devices.
IBM also has started to support the Open Grid Services Architecture (OGSA), a set of emerging standards designed eventually to produce a multivendor grid architecture.
Final Analysis
The success or failure of IBM's initiative will not necessarily depend on the company itself, but rather on its ability to entice software suppliers to make the necessary investments to make their products compatible with grid capabilities.
Currently, there is a scarcity of programming tools, applications and management systems to help developers make their products compatible with a grid-computing architecture. Retooling existing products to run on new computer hardware is a complex task — one that vendors undertake only when they see a customer base willing and able to buy such products.
Oracle has talked about adding grid features to its database applications, but few other vendors have grid computing on their product enhancement lists. Because so many components must fall perfectly into place for the grid-computing movement to take off completely, analysts expect the transition to grid computing to take time — at least two to three years and quite possibly longer.
"In 12 months, we will have a better idea of how successful or unsuccessful IBM's grid push will be," concluded Johnston Turner. "If there is significant third-party support and a growing buzz about it, then [grid computing] will have a chance at being a significant movement. If not, then it could turn out to be another OS/2."