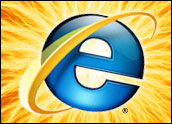 Microsoft announced Wednesday that it will add a "do not track" option to the next version of Internet Explorer 9 when it is released in 2011. The Tracking Protection feature is a privacy tool designed to help keep third-party websites from monitoring users' Web behavior by letting users filter content on a page that may have an impact on privacy.
Tracking Protection joins an existing privacy tool already in IE8: InPrivate Browsing helps users control what the computer remembers about their browsing activity.
Microsoft's Answer to Do Not Track
Third-party sites that track browsing activity can build user profiles. While this practice can provide personalization benefits to users, it often takes place without their knowledge or permission, causing privacy concerns that recently prompted government action.
In late November, the Federal Trade Commission renewed the online privacy debate with a report that addressed the issue of Internet tracking, recommenting "more effective technologies for consumer control" via "a browser-based mechanism through which consumers could make persistent choices."
Tracking Protection on IE9 may fulfill the FCC's request.
Does this Render Do Not Track Unnecessary?
Further government action may not be necessary if consumers can end tracking with a browser tool.
"It's in the nature of the feature that you can effectively turn tracking off. So it does seem to accomplish a lot of what the government was trying to do through legislation," Rob Enderle, principal analyst at the Enderle Group, told TechNewsWorld. "It may force Chrome and Firefox to add anti-tracking as well."
Given that tracking functions are embedded — often in an invisible manner — an anti-tracking feature may disrupt the appearance of Web pages.
"It may cause certain things on the page not to render," said Enderle. "Very possibly, the tracking utility may have references in the text, so you might see a hole in it."
While privacy has been an issue among consumers and governments, so far there are no high-profile instances of users being harmed by third-party tracking.
"I'm still struggling with what the problem is," said Enderle. "It's difficult to see how it could be used hostilely against you. Tracking your interests and presenting ads that might interest you does not seem like a big deal. It's not clear how many people are going to use it."
An Industry Step Toward Self-Policing
There have been many concerns about how a government-mandated Do Not Track option would work and whether it would even be enforceable. Would the U.S. government be able to control foreign-based third-party trackers?
Tracking Protection may put an end to those questions by allowing the industry and consumers to control whether or not they are tracked.
"I think Internet Explorer is doing something really good. I sure hope Chrome and Foxfire follow suit," Azita Arvani, principal of the Arvani Group, told TechNewsWorld. "It's taking a great step to make sure people who want to protect their privacy have that option."
Whether the FTC will still need to take action after Microsoft releases Tracking Protection may depend on how well it works.
"Will it make legislation unnecessary? We'll wait and see when Internet Explorer 9 comes out," said Arvani. "Then we'll see how it's implemented and see if it goes far enough to take care of privacy concerns. If the industry can do it, it's better than government intervention. We'll have to see if the other browsers follow."
The IE9 protection will likely prompt some changes in Internet advertising, she noted.
"Advertisers will have to look for ways to advertise that are more opt-in and are more transparent," said Arvani. "People just want more transparency. If they want their information kept, that's fine."