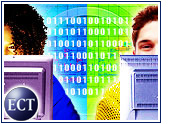 Various instant messaging (IM) products are readily available around the Internet, and because of the wide variety of options, the Internet has the potential to turn into a modern-day tower of Babel, with everyone using different IM products. Programmers, however, are busy working to fix this potential problem with all-in-one software applications that allow users to communicate with friends and colleagues who use different platforms like MSN, AOL and Yahoo.
Originally, each company wanted to offer IM only to its own user base and not make it interoperable with other systems, Rob Maupin, chief technology officer of Fly Technology, an Internet services firm, told TechNewsWorld. AOL, MSN and Yahoo spent large amounts of money maintaining the different systems, while more and more users started using IM.
"This increased cost of operation without the ability to work interoperably with their existing system is forcing them to re-examine interoperability to be cost effective," he said. "This consumer demand begins to force providers to develop interoperability; proof of this is the fact that AOL now offers free IM accounts without being an AOL paying customer."
Setting Standards
Maupin said that he often works with a group called Jabber, which is developing an open-source IM product. He thinks Jabber eventually will become the standard for IM. If this prediction were to become true, it surely would make Joe Hildebrand, who is chief architect at Jabber, a happy man. Jabber's open-source protocol for IM interoperability is also referred to as the XMPP standard — or Extensible Messaging and Presence Protocol.
"XMPP is rapidly emerging as the glue that will tie together the disparate IM universes when and if IM carriers and vendors choose to interoperate," Hildebrand told TechNewsWorld. Jabber claims that some 10 million worldwide users are already using XMPP.
According to research firm Gartner, more than 70 percent of all businesses are using IM for business communications. Hildebrand said this bodes well for the cause of interoperability, as enterprise customers are more likely to insist on interoperability to use IM to communicate in a manner that is consistent with common business-level requirements.
"These companies recognize that the communication of potentially sensitive information over unsecure and unadministrated networks is a significant liability on many levels, and that it is a liability that can and should be within their control," said Hildebrand.
Competing Protocol
Another competing protocol for IM is called Simple. Francis Costello, chief marketing officer at Akonix, a provider of enterprise communications software, told TechNewsWorld that IBM and Microsoft have already started down the Simple path to IM interoperability.
"Use of IM in the enterprise has moved from ad hoc employee adoption to where we are today, which is IT organizations putting in place the infrastructure required to harness the power of IM communications in a safe and managed way," said Costello.
"Organizations are starting to look at how they will integrate this technology with existing enterprise applications, how to leverage the power of presence and thinking about advanced features that more tightly integrate real-time communications into enterprise business processes."
Business Applications
Meanwhile, LivePerson is working to help businesses solve the interoperability problem by offering a live-chat platform through which customers can get immediate answers to their questions without having to download any applications. To speak with a customer service agent, all a Web site visitor needs to do is click on a live-chat button to chat with a company representative.
"By profiling Web site visitors and monitoring their activity on a Web site, LivePerson can proactively engage only those customers that exhibit behavior that deems them a 'hot prospect' into a live sales consultation through chat," Robert LoCascio, chairman and chief executive officer at LivePerson, told TechNewsWorld.
"Live chat is an efficient way to provide unparalleled customer support while reducing overall costs," he said. LoCascio added that many companies, such as Microsoft, BellSouth and eLuxury, have seen an increase in sales as a result of this technology.
Third-Party Vendors
James Pankiewicz, mobility strategy consultant at Conchango, said that third-party vendors, rather than major players, are leading the way. Among others, he pointed to an organization called the Secure Electronic Communication Compliance Archive System — which provides an IM platform that can handle multiple protocols and that allows users to talk to Yahoo, AOL and MSN users.
"The security and management aspects may dampen IM's major advantages of presence, immediacy and its 'always-on' potential," Pankiewicz told TechNewsWorld. "Major vendors have to answer all of these issues to drive enterprise adoption."
"As with any emergent technology, often these issues aren't addressed until it reaches a second, more mature phase. This is happening among the IM pioneers — like Yahoo, AOL and Microsoft — who now effectively have to catch up with the second wave of smaller IM providers."
Whether the larger players can remain as agile as the smaller developers — and quickly adapt their widely used messaging platforms to new protocols and standards — could determine whether those large players retain their status by remaining as popular as they are now in the years ahead.