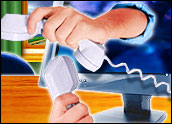 Telecom and cable giants are moving quickly to keep up with innovations and opportunities surrounding Voice over Internet Protocol (VoIP), one of the latest technology trends to draw aggressive strategies from companies such as AT&T and Verizon.
As the larger, more traditional telecom and cable companies try to keep up with VoIP developments pushed to market by newer players such as Vonage, the battle between cable and DSL providers might see new life.
"It introduces new competition as well," Meta Group senior analyst David Willis told TechNewsWorld. "It's really a different slice at [the market]."
Features and Price
Verizon is offering a US$39.95 per month VoIP service to both cable and DSL high-speed Internet subscribers. Verizon's new service is similar to a multiple U.S. state VoIP offering from rival AT&T. The service provides the Internet-based phone service with call-management features such as call forwarding and call logs that itemize activity.
"We recognize that along with cost savings, customers want the enhanced features that new technologies bring," said Bob Ingalls, president of Verizon's Retail Markets group in a statement. "Our wide range of features makes managing calls simple and convenient."
Verizon said it would provide VoiceWing subscribers with an adapter that allows them to use their own telephone with their DSL or cable modem connection to make VoiceWing calls.
DSL Advantage?
As both cable companies and carriers such as Verizon roll out VoIP offerings and strategies, the DSL and dialup customers are more likely to ditch traditional phone service for VoIP, according to Ipsos-Insight senior vice president Lynne Bartos.
"In a twist, the data shows that cable Internet users are more reluctant than DSL and dialup users to try VoIP," said Bartos' report on VoIP users.
"What is surprising is that dialup Intenet users are more likely than cable Internet users to try VoIP, despite cable users' broadband hook-up," Bartos said.
Roles Change
Meta's Willis said there is an industry change that is affecting how consumers connect to the Internet, use the phone and get their entertainment. In the past, there was a direct relationship between the company providing access and the company providing services, Willis explained.
"Now there's this separation, where you can use the cheapest broadband provider and choose whatever service on top of that," Willis said.
In terms of selling bundled services, Willis said it has reduced churn in the different markets, with cable benefiting from its ability to deliver exciting entertainment packages and DSL maintaining a price advantage.
"Nobody can raise prices, but what they can do is change the value proposition and change the rules," Willis said.
Pushing the Pace
Willis said traditional telecom companies cannot move at the pace of newer, more agile corporations like Vonage.
"The pace of this new type of offering is fast," Willis said. "For the telcos, there's no real first-comer advantage. They'll copy what some company does. They're so tied up in the historical model, they're not going to innovate like that."
However, Willis — who referred to similar competition at the early stages of broadband — indicated that the larger players will get into the game hard with features and pricing once the market gets hot.