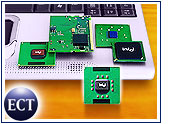 Redirecting its wireless course after betting on the weaker of two technologies, Intel has introduced an 802.11g wireless network connection aimed at boosting the speed and capability of wireless local area networks (WLANs).
The Santa Clara, California-based chip giant said its new PRO/Wireless 2200BG network connection — a standards-based 802.11 WiFi technology specifically designed for WLANs — will provide high throughput at longer ranges with improved energy efficiency in homes and offices. The new network connection, which is software upgradeable for future security and other technology enhancements, such as 802.11i, will be featured in notebook PCs with Centrino mobile technology, Intel said.
Intel continues to push further into the wireless space and develop its own wireless technologies rather than relying on partners. The company had to rely on other developers for the newer 802.11g chipsets after it cast its lot with 802.11a. While the early 802.11a protocol still offers reasonably good WiFi data rates and security capabilities, 802.11a has yet to gain traction in either the consumer or enterprise market.
Getting from A to G
Analysts said that while Intel is arriving late to the 802.11g space — the 2200BG Centrino mobile connection supports both 802.11b and 802.11g — the move will help the company in the consumer wireless market and will facilitate broader WLAN use.
"They recognize that 802.11a was not the right decision," Yankee Group analyst Sarah Kim told TechNewsWorld. "While Intel wasn't one of the startups [that went out of business], they were very much behind a technology that wasn't going anywhere."
Although she referred to Intel's error in backing the 802.11a technology, for which there is currently little demand in the enterprise space, Kim credited the company for producing the all-Intel silicon solution.
"Intel has been behind, and it's not something you can create overnight," Kim said. "They've finally got a product out there."
The company said its Centrino mobile technology — Pentium M processor, 855 chipset and new PRO/Wireless network connection — will enable integrated WLAN connectivity, extended battery life, lighter PC designs and improved performance and reliability.
"With support for open industry standards, the Intel PRO/Wireless 2200BG network connection offers more than three times higher performance than stand-alone 802.11b solutions," said Intel vice president and general manager of the Wireless Networking Group Jim Johnson in a statement.
802.11 Flavor Forecasts
Kim, referring to the different "flavors" of 802.11 technologies, indicated wireless users are predominantly using 802.11b. However, companies want more capacity and flexibility, which makes 802.11g an attractive option.
Gartner research vice president Martin Reynolds told TechNewsWorld that Intel is filling a gap with the new 802.11g WLAN solution, but he added that his firm foresees problems with the technology in the enterprise, which might actually end up favoring 802.11a technology.
"We believe there are some issues with 802.11g in the enterprise," Reynolds said, referring to throughput and capacity. "It's important for Intel to have this, but it's not a real killer in the wireless space."
Wider Wireless Impact
Kim said wireless competitors, such as Broadcom, which benefited from its focus and timing on 802.11g technology, are making plays for the enterprise, especially for wireless access points and wireless cards. Intel, on the other hand, is focusing on the consumer notebook market with its new 802.11g technology, the analyst said.
Kim also credited Intel with "doing its part for everyone in the wireless industry," adding that the company's latest wireless moves might help the market grow in size and volume.
Reynolds, noting that 802.11g technology is being adopted primarily by home users, pointed out that Intel's move will impact the overall wireless space. "They're making sure WLANs become ubiquitous, so they're doing what the industry needs now," he said.