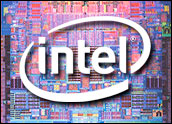 Intel introduced the latest member of its quad-core family of microprocessors Tuesday at the Embedded Systems Conference in San Jose, Calif. The Quad-Core Intel Xeon E5335 and E5345 are the first, the company said, to bring the Intel architecture-based quad-core performance to the embedded market.
The new arrivals are part of the 11 quad-core products Intel launched less than six months ago. Although the chips will be sold to original equipment manufacturers (OEMs) and embedded product developers in fields such as medical imaging, communications equipment and point-of-sale (POS) equipment, Intel gave them a splashy entrance. The company presented a custom-built, Intel-themed embedded technology-based motorcycle from Orange County Choppers, of The Learning Channel's "American Chopper" fame. The chip maker also launched the "chopper" simultaneously in "Second Life," the Internet-based virtual world.
"The breakthrough performance and power efficiency that characterize the industry's first quad-core processors for embedded are as unmistakable as the raw power of the four cylinders of the Intel Chopper's quad engine," Doug Davis, vice president and general manager of Intel's Embedded and Communications Group, said.
"This 250-horsepower chopper — designed using quad-core Intel computers — is more than just a mechanical powerhouse; it's also a marvel of embedded technology with an ultra-mobile PC powering fingerprint recognition for security and a digital dashboard with ignition control, digital gauges, cameras that replace rear-view mirrors, integrated audio and video systems, GPS navigation and wireless connectivity," he continued.
Intel Embedded
The quad-core embedded processors offer dual-processing capabilities supplying up to eight high-performance cores per platform, according to Intel. The Xeon processor 5300 series comes with two speeds, 2.0 GHz for the E5335 and 2.33 GHz for the E5345. Ideally suited for intense computing and I/O intensive workloads within high-end communications and enterprise systems, such as rack-mount (1U/2U) and blade servers, NAS and SAN systems and medical imaging equipment, the chips are currently available with prices starting at US$690.
"This is the first quad core x86 push into the embedded large-system space," Rob Enderle, principal analyst at the Enderle Group, told TechNewsWorld. "It suggests a vast improvement in the scalability and capability for devices in this class — large-scale network controllers, manufacturing equipment, etc."
The biggest significance is that Intel is bringing cutting edge technology down to the embedded market, according to Jim McGregor, principal analyst and research director of Enabling Technologies at In-Stat.
"This means that Intel is going to support quad-core for embedded for years," he told TechNewsWorld. "What it really means, when you start looking at some of the traditional embedded applications for high-end servers, for industrial applications, communication applications, it means they will have state-of-the-art capabilities and performance as well as long life cycles."
Future Uses
One area in which the technology could prove extremely helpful is in airport security and the effort to keep terrorists out of the country. That, McGregor pointed out, is an exceptionally difficult task with millions of people moving through airports in the U.S. each day. The simplest technology to improve security would be the use of some form of biometrics, such as facial recognition.
"[To work, the system] needs to take a quick snapshot of everyone, every person walking [in the airport], and compare it to a massive database with hundreds of millions of entries," McGregor explained. "Having multiple cores and creating a massively parallel processing solution that has that processing capability enable you to do that very quickly."
Both Enderle and McGregor expect to see devices using the new processors available within the next 12 to 18 months.
Intel also announced the Intel IP Network Server NSC2U. Powered by two 5300 series processors, it provides high I/O throughput and performance capabilities suitable for a variety of network-centric applications, including security intrusion prevention and telecommunication Services-over-IP (SoIP) such as IMS, IPTV and Video on Demand (VoD). The company has set a targeted release date for July.
Thirty Years and Counting
The Xeon E5335 and E5345 launch commemorates the microprocessor manufacturer's 30 years in the embedded market. Intel's embedded technology powers automobiles, airplanes, ATMs, information kiosks, telecommunications infrastructures and network storage systems, in addition to factory and medical equipment.
"Intel has been in the embedded market a long time," McGregor noted, "and they have made headway. Quite honestly their biggest competitor has been the PowerPC, which has been from Motorola, now Freescale and IBM.
"And they have continued to gain traction in multiple segments of the embedded market against the PowerPC and other processing solutions over the past decade," he added.
Ten years ago, McGregor explained, nearly all medical imaging systems were based on the PowerPC processor. Today, they are all based on Intel. "You'll be hard-pressed to find any new designs with PowerPCs in them. One of the last holdouts is GE Medical. Everybody else has gone over [to Intel]."
Intel puts a lot of engineering and expertise into the embedded market, McGregor said. When Intel went into some of these applications, such as communications and medical systems, an entire team of engineers went out to support custom board designs and revisions of chipsets to support these applications.
"Intel does not just take its standard product and say, 'Here it is for embedded applications and we'll give you five years support or extended life cycle support.' They typically put a lot of engineering resources behind it as well. What it means is you continue to get the best of all worlds," McGregor stated.