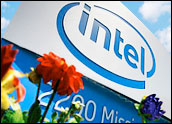 Intel on Wednesday laid out its road map for the next year or so, including details about Penryn, its 45nm chip due later this year, as well as the next generation beyond that.
The company will begin producing its Penryn chip in the second half of this year, officials said, featuring enhancements to the Intel Core microarchitecture as well as 45nm process technology with a hafnium-based high-K, metal gate transistor design, which offers better insulation and results in higher performance and more energy efficiency.
There will be six Penryn processors: both dual- and quad-core desktop chips, a dual-core notebook chip, dual- and quad-core server chips and a high-end server chip. Speeds will exceed 3 GHz, officials said.
'Tick' and 'Tock'
Current-generation Core chips are still 65nm in size. IBM has also said it plans to use a high-K, metal gate design, but Intel is the first to announce production plans for this year.
The Penryn represents the next step in Intel's "tick-tock" delivery strategy, by which it delivers a new process technology with an enhanced microarchitecture or an entirely new microarchitecture every year, officials said. Because it makes use of new process technology, the Penryn is a shrink-derivative, offering primarily a smaller size.
Following the Penryn, and representing the next entirely new microarchitecture in Intel's plans, is the chip code-named Nehalem, slated for production next year. With dynamically managed cores, threads, cache, interfaces and power, the Nehalem will use simultaneous multithreading — similar to Intel's older Hyper-threading technology — to enhance performance and energy efficiency. Nehalem will also use an on-die integrated memory controller and on-chip integrated graphics processing.
An Ambitious Plan
"I think this is going to make Intel very competitive," Roger Kay, president of Endpoint Technologies, told TechNewsWorld. Following a period in which the company repeatedly missed launch dates, it began improving in 2004, and even began launching ahead of plan on some occasions, Kay noted. "So even though this new pace might seem fairly ambitious, their ability to do this is demonstrated."
While AMD, which is Intel's primary competitor in this area, has posed some challenge to the firm, now "AMD has a big challenge," said Kay.
"The way they're timing this, with a big process change in Penryn and a processor change in Nehalem, is a very good strategy," Jim McGregor, research director and principal analyst for In-Stat, told TechNewsWorld. "Though in terms of competitiveness, it's really just bringing them more in line with AMD in some respects."
Deja Vu?
AMD already has a product coming out this year that will be much like Nehalem, McGregor noted, though Hyper-threading is an advantage AMD doesn't have. "Intel is changing its strategy, where a lot going onto Nehalem looks like what AMD already has."
With all the additions to the Nehalem chip, it may also become bulky in size, McGregor added. "When Intel went back to mobile Core, it went to a more simplistic design," he said. "Now if they keep introducing all these new technologies back in, that beefs it up again. It will be interesting to see the power and performance data."
Overall, "Penryn is a slam-dunk for Intel, building on the company's momentum," McGregor concluded, "but a generation or two down the line, it probably won't be a slam-dunk for either Intel or AMD. We'll see the benefits of one for some applications, and vice versa. The game is becoming much more competitive."