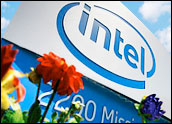 Intel showed off its latest platform aimed at mobile Internet devices (MIDs) Sunday at the company's Developer Forum in Taipei, Taiwan. Dubbed "Moorestown," Intel said it expects to ship the platform in 2009 or 2010.
"Moorestown is the first ultra mobile platform and is much, much better than Atom on current consumption," said Ian Lao, an InStat analyst.
Atom offers a decent level of power consumption by itself, Lao told TechNewsWorld. "But now you're talking about having a fully integrated chipset that's targeted at low-current, mobile applications that includes the CPU (central processing unit) cores, the chipset functionality as well as the graphic functionalities."
Radio Waves
The Moorestown platform consists of Intel's system-on-chip (SOC), codenamed "Lincroft." It integrates the 45-nm Atom processor core, graphics, a memory controller and video encode/decode onto a single chip. Also included is an input/output hub codenamed "Langwell," which supports a range of I/O ports to connect with wireless, storage and display components in addition to incorporating several board level functions.
The component will also support a wide range of wireless technologies, including 3G, WiFi, GPS, Bluetooth, mobile TV and WiMax, which Intel helped develop. Sprint and Clearwire recently began rolling out a new WiMax network, starting with Baltimore.
Moorestown, however, will also include support for High Speed Packet Access (HSPA), a technology used by other carriers.
"The reason they want to [add support for HSPA] is they want to offer support for technologies from carriers not supporting WiMax. [Intel] is hedging its bets," Lao explained.
It makes more sense for Intel to include the additional support because it offers OEMs greater choice, he said.
"It's done so that Intel's customers don't have to do a secondary product SKU to satisfy the worldwide market. They can buy one family of chips from Intel and do the same board design. They don't have to have two separate board designs," Lao pointed out.
AMD has a similar offering, but rather than an integrated solution, it supports third-party installed radios.
"They haven't gone down the route of trying to integrate it into the platform solution on the chipset," he said.
Mobility, Mobility
Moorestown, according to Intel executive Anand Chandrasekher, will serve as the catalyst for new innovation that will extend the full Internet experience into the smartphone arena.
The new platform should be well received by a range of original equipment manufacturers (OEMs) in the ultra mobile device market, said Lao
"There is a lot of interest in the Moorestown (platform) by the OEMs that not only have notebooks but also portable mini-books. On top of that, the interests that started Intel down this path originally — the ultra mobile PCs and the MIDs — right there you have those four classes of devices, and we haven't even begun to talk about what this kind of processing capability in a smartphone or a media player will do," he explained.