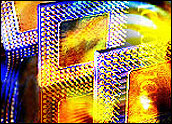 Intel is touting its development of a prototype, CMOS-standard wireless radio that supports all WiFi, or 802.11 standards, including a, b and g, as well as the next-generation wireless 802.11n.
The chip giant said through standard CMOS silicon manufacturing, it could create the "system-in-a-package," which is a wireless transceiver capable of connecting users with the different wireless flavors.
Analysts indicated the news was good for device manufacturers, who will be able to cut costs by using a smaller number of wireless radio chips, and for consumers, who will gain flexibility for various devices on different standards that are all interoperable with WiFi hot spots and other WLAN networks.
"I think when it's produced, it [will be] a good thing," Gartner vice president of mobile computing Ken Dulaney told TechNewsWorld. "I'm sure other vendors will follow suit."
Intel did not offer a release date for chips that will incorporate the new technology, but expectations are that it will be years rather than months before the devices become widely available.
Low Power, High Bandwidth
Intel said its prototype, all-CMOS dual-band radio transceiver represented advancement in its power efficiency, and also in its variable bandwidth, which provides a solution for today's different standards as well as tomorrow's.
"This system-in-a-package design uses more low-voltage circuitry than we've ever used in the past, which means we can integrate it and make it lower cost while operating at lower voltages and providing longer battery life," said a statement from Intel director of the Communications Circuits Research Lab Krishnamurthy Soumyanath.
"The variable bandwidth of this solution extends capabilities beyond today's 20 MHz to 100 MHz, and is expected to support data rates higher than 100 Mbps that should allow people to enjoy multiple high quality video streams concurrently," he added.
Smart, Silicon Antenna
Intel also said the new wireless radio technology would diminish the difficulty of connecting wirelessly depending on the various types of WiFi.
"In the next few years, Intel expects mobile devices will contain several different radios so they can utilize many different wireless communication networks," the company said in a press release. "Intel's research points toward a time in the future when one device will use 'smart' antenna systems and a reconfigurable CMOS radio on a single device, making the radio more power efficient, smaller and lower cost. The goal being pursued is the ability to connect to any network, anytime, anywhere on any device."
Mainstream, More Flexible
Gartner's Dulaney said he would not be surprised to see similar announcements from other chip makers such as Texas Instruments, adding that the newer technology that comes from the old, established manufacturing process will probably make it to market in two to three years.
Dulaney said the wireless industry is benefiting from the continued formation of wireless standards, indicating it could help usher in a new era of integration and interoperability.
As for the CMOS manufacturing, Dulaney called it "a mainstream technology," and said that it will allow device manufacturers to keep costs, space and energy use down. CMOS, which stands for Complementary Metal Oxide Semiconductor, is a technology that is often used by manufacturers for low-power chips.
Multi-Mode World
IDC analyst Shiv Bakhshi told TechNewsWorld the technology announced by Intel is a good idea and highlighted the difficulties of making devices that may or may not work with various WiFi networks and locations.
"The idea of a multi-mode radio for WiFi takes away the problem of a, b, and g handsets and networks [being different]," he said.
Bakhshi stressed the future of WiFi depends on the ability to connect wirelessly regardless of the standards behind the devices and networks.
"Going forward, the aim is, it doesn't matter what the network is, your device can talk to it," he said.